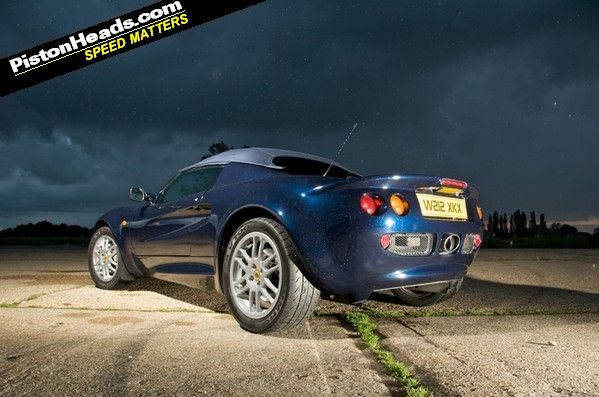 What a body! GRP structure is one of the Elise's strongest suits.
Front driving lamps are desirable
Lotus is one of the best at making bodies from glass fibre and the Elise is proof of this. It's very well finished and hard wearing, which makes it all the more important to look for signs of crash damage or bad repair work. It's often easier to replace the front or rear clamshells completely.
Front driving lamps were a popular option with the Elise S1 and are sought after now. The 111S has a different engine cover to allow for the greater height of the VVC variable valve timing engine. Other distinguishing features of the 111S include standard Perspex headlight covers, small black plastic lips at the back of the rear wheelarches to keep the wider tyres legal, and clear front indicator lenses.
Expect to replace engine cover release
One of the few weak areas of the Elise S1 is its fabric roof. The simple piece of fabric sits over two spars and then clips into place, but the securing mechanism on early cars was much too fiddly and can easily be broken by careless owners. A replacement from Elise Parts is generally reckoned to be a better solution than another original hood. Storing the hood is simple as it fits behind the seats or in the boot. The boot release is tucked down behind the driver's seat and the mechanism is weak, so expect to have to fix this at some point.
Hard tops are fitted using the same mounts as the fabric roof, but there's more noise with the hard top than the soft roof. It will also leak just as much as an original fabric hood, so most owners don't bother with the hard top.
| | |
| --- | --- |
| And the hood set-up... | ...can cause a few issues |
PH Buying Guide - Lotus Elise S1

Introduction
Powertrain
Rolling Chassis
Body (viewing now)
Interior
Insurance Quotes
Lotus Elise S1 ads (PH Classifieds)