Minimalist interior means you can expect few problems here...
Stack dials pricey - but usually reliable
There isn't much to the Elise's interior. A set of fabric seats and minimal trim make it easy to repair or replace completely. Most Elise customer specified leather seats, which are hard wearing, but watch for water damage due to a leaky roof. Only the driver's seat slides back and forth for adjustment.
The simple dash uses a Stack instrument pod and it's reliable. Any faults here will be pricey to remedy, but the S1's electrics are sound. Switchgear is from Peugeot and works well, while the heater switches are simple and the stereo is within easy reach, even if it's not easy to hear at motorway speeds.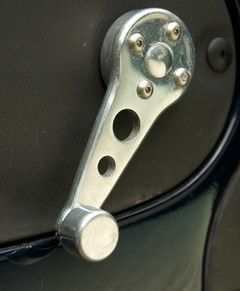 Wonky winders can be a tricky fix
It's also worth lifting up the carpets or mats to check the state of the aluminium as corrosion can go unnoticed, so as to make sure these surfaces are clean and dry.
Simple air vents blow warm air on to the screen to demist it, but expect there to be a fair bit of debris blown into the cockpit. It gathers as dust and grit on the large, flat dash top. A quick fix here is to place a thin material over the air intake in the front bonnet compartment.
Window winders are known to become stiff with age as the runners warp. It's a tricky fix as the mechanism is hidden inside the bonded door. Check the windows run up and down smoothly. It's also worth making sure the alarm functions properly.
| | |
| --- | --- |
| Pardon? The radio is what..? | DIY-fit your own fabric air filters |
PH Buying Guide - Lotus Elise S1

Introduction
Powertrain
Rolling Chassis
Body
Interior(viewing now)
Insurance Quotes
Lotus Elise S1 ads (PH Classifieds)