The man responsible for the development of every new Lotus from the Esprit to the Evora is leaving the company for a well-deserved retirement.
Roger Becker spent the last 44 years dedicated to ensuring Lotus products like the ones pictured below have lived up to the expectations of brand enthusiasts, and it would be hard to overstate his contribution to the company over recent decades.
| | |
| --- | --- |
| Becker helped develop cars like Esprit... | ...and Elan, among many others |
The official announcement from Lotus runs as follows:
Lotus Press Release
Roger Becker, Lotus' Director of Vehicle Engineering is retiring from Group Lotus after a long career of 44 years.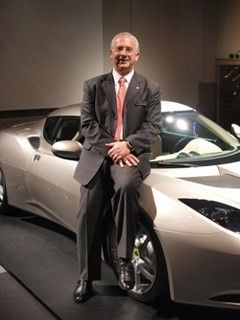 Roger Becker - retiring after 44 years

Roger, 64, joined Lotus in 1966, working on the Elan assembly line at Cheshunt, but his natural driving and engineering skills came to the attention of Lotus founder Colin Chapman and Roger was quickly moved to the vehicle development team where he worked directly with Mike Kimberley (former Lotus CEO) on the Lotus Europa Twin Cam - his first Lotus car development project.
During his career at Lotus, Roger has been responsible for the development of every Lotus car, including the legendary Esprit, Excel, Elan, Elise, Exige and the new critically acclaimed Lotus Evora. Roger has helped to maintain the philosophies laid down by Colin Chapman and has ensured that the essence and purity of Lotus is instilled in all new Lotus cars. He also has imparted his chassis engineering knowledge and development skills to many of the world's major automotive manufacturers in support of Lotus' consultancy engineering business.
On his retirement, Roger Becker said, "I have had a dream career at Lotus, with the honour of not only working directly for Colin Chapman but also working with some of the finest people in the motor industry. With the Lotus Evora successfully entering the market with unprecedented global adulation, and at 64 years of age, I feel now is the natural time to retire. The Evora has given me my finest hour at Lotus and I leave knowing it will be the foundation of all our next generation cars. The product engineering team will build on this to develop many more award-winning products and I wish them every success for what promises to be a very exciting future for Lotus cars and the Lotus brand."
Dany Bahar, CEO of Group Lotus plc said, "On behalf of all the staff at Lotus, I would like to thank Roger for his contribution to Lotus over 44 years and we wish him well in his retirement."