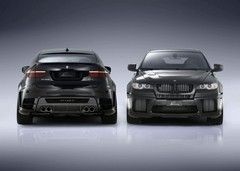 If you feel that the 'cooking' BMW X6M is already bordering on the sacrilegious, then this, the Lumma Design CLR X 650 M is quite likely to make you throw your cup of coffee at the computer screen.
Read the PH Team's views on the X6 M here
But behind the oh-my-goodness 23-inch alloys (yes, really), suspension that's been lowered by 40mm and the bodykit that taste forgot there is at least an interesting amount of power.
The CLR X 650 M uses the same twin-turbo V8 as the factory-standard car, but with a tricky exhaust system and, crucially a fiddled-with ECU. This brings power up from 547bhp to 641bhp, and torque to 612lb ft.
Oh, and Lumma has removed the speed limiter to bring the top end up to 184mph. no doubt useful when you're desperately trying to outrun the taste police...