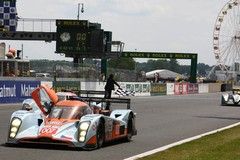 There will be plenty of drivers and cars for Brits to cheer at the Le Mans 24hrs this year, as the official entry list released today by the ACO reveals.
Brit sports car ace Allan McNish is back as a works Audi driver, Aston returns with its Gulf sponsored LMP1 machines and Darren Turner at the wheel, while legendary F1-ace Nigel Mansell is also confirmed as an LMP1 Ginetta-Zytek entry along with sons Leo and Greg.
Further down in the GT2 category, Jaguar is making a welcome return to Le Mans with an RSR-run XKR. Touring car legend Andy Priaulx is also set for a GT2 drive in one of two works-entered BMW M3s.
The entry list for the supposedly reinvigorated GT1 class is a mild disappointment, however, with only three 'new rules' cars out of a total of eight entries - and no Maserati MC12s.