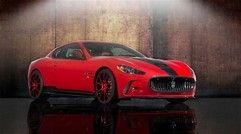 As if one
colourful challenge to the mores of good taste and decency
wasn't enough for a Friday, PH proudly presents another chance to splutter coffee over your keyboard.
Yep, it's Mansory time again, and as you can see our favourite and most fanciful Fritz fettler has turned his attention to the Maserati GranTurismo.
Admittedly it's not up to the standard of the great man's finest work, which may be considered both a blessing and a disappointment. In fact, this Maser GT could almost pass for tasteful in some company. Er, couldn't it?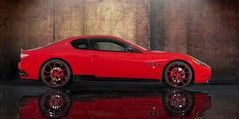 The Mansory press release hints at the new approach, containing as it does an adjective we thought they'd never heard of - listen to this: "A newly designed front spoiler with discreet (there - that's the one!) spoiler lip gives the front a significantly more sporty appearance and the carbon fibre radiator grille highlights the famous Maserati trident in the centre of the grille."
The release also draws attention to additional air inlets in the carbon bonnet, deep body sill addenda, carbon boot spoiler and a new rear diffuser. The whole plot is some 30mm closer to the ground thanks to revised suspension, and the wheels are bespoke. Power is increased via a modified ECU and exhaust system, with Mansory claiming 405hp for the GT, and 440hp for the GTS.
The cabin is treated to lots of vibrant leather, a new steering wheel and aluminium pedals, but frankly, the more we look at this car, the more palpable our sense of disappointment. It's just too understated too poke fun at properly.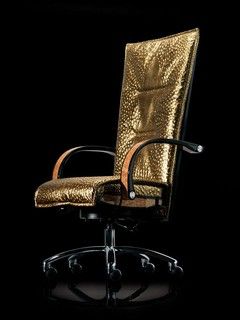 So have a giggle at this beauty instead. It's a fabulous office chair from
the Mansory furniture range
that far more ably encapsulates all the best thoughts we have about the brand.