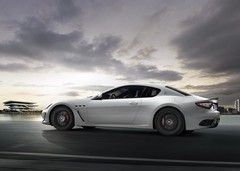 Say hello in your best 'Clifford the Dragon' tones to the new GranTurismo MC Stradale, which Maserati says will be the fastest, lightest and most powerful car in its line-up when it goes on sale in the first quarter of 2011.
Inspired by the Trofeo GranTurismo MC and the race-winning GT4 motorsport models, the two-seater Maserati GranTurismo MC Stradale will debut at the Paris motor show next month.
As well as being a paid-up member of the 300km/h Club (186mph), the car is said to be an answer to customer demands for a GranTurismo which can balance on-road driving needs with a bit of extra stimulation on-track, incorporating the handling and aerodynamic lessons from Maserati's three racing programs. (They say.)
The GranTurismo MC Stradale produces more aerodynamic downforce without producing more aerodynamic drag, and gets a 450 hp version of the 4.7-litre V8 fitted to the Gran Turismo S on which it is based. The newcomer also has an aggressive new look to back the extra muscle with a revised front end and side skirts.