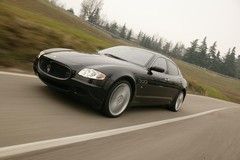 Not the new Quattroporte...
Maserati's next generation of saloon offerings will not be a direct replacement for the Quattroporte, it seems, as the company diversifies its four-door range to chase after a much larger slice of the luxury saloon market.
We already know that Maserati is working on two new saloons - codenamed M156 and M157. What we didn't know until now is why.
The answer, apparently, is that the current Quattroporte sits awkwardly in the saloon car market - too large to be considered a focused driver's car, too small and sporty to work as a chauffeur-driven Limo.
Thus, the new Quattroporte (M156) will be a significantly larger car, aimed at the likes of the long-wheelbase S-class and its ilk, while the 'baby' Quattroporte (M157) will be a more driver-focused choice.
According to industry website Automotive News, the bigger car will use a version of the Ferrari-built 4.7-litre V8, with direct injection and 475bhp, coupled to an 8-speed auto. It will also be priced between 125,000 euros and 150,000 euros.
The smaller M157, meanwhile, will be 5-series-sized and will use a high-end version of Chrysler's Pentastar V6, with around 400bhp. There will also be a diesel version using the VM Motori V6, a version of which currently serves in the Jeep Grand Cherokee.
Interestingly, AN says that the baby Quattroporte, which is scheduled to be launched next year, was originally slated to be a flagship Alfa Romeo, but that Fiat Group's management reckoned that the Maserati name would endow the car with more kudos (and no doubt a higher price tag).
Both saloons are set to be built at the Officine Automobilistiche Grugliasco (OAG), which was formerly the Carrozzeria Bertone and was bought by the Fiat Group back in 2009.