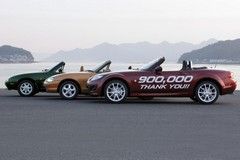 Mazda's iconic MX-5 has passed another milestone today (Feb 4th), with total production for the three generations of the little roadster passing the 900,000 mark.
This, hopes Mazda, will mean the MX-5 sets a new Guinness World Record as the world's best-selling two-seater sports car - except that it's already held that record for more than a decade, when production reached 531,890 units back in May 2000.
Guinness duly updated the record when MX-5 production passed 700,000 and 800,000 units, and now Mazda is reapplying to have the record updated once again.
We certainly enjoy an MX-5 here on PH, as our sojourn to Yorkshire in all three versions a couple of summers ago confirmed. So happy 900,000, MX-5. Here's to the next 21 years and 10 months...