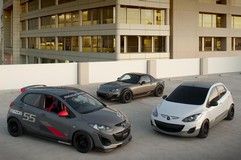 Mazda has produced a gaggle of tweaked cars for the SEMA show in Las Vegas, including a 180mph Mazda 3 and a supermini circuit car called the Mazda 2 Evil Track.
Mazda has also created a special version of its MX-5 to celebrate the car's 20th anniversary - the MX-5 Super20, which has had rather a lot of modifications, including a supercharged Cosworth engine.
The 180mph Mazda 3 is actually a Redline Time Attack competition car, and runs more than 500bhp courtesy of its deeply modified 2.5-litre turbocharged motor - but Mazda hasn't provided a picture in its press release and, since we have no Las Vegas correspondent (applications accepted via e-mail...), you'll just have to imagine what it looks like (...or you can have a look at the Time Attack Mazda 3 here).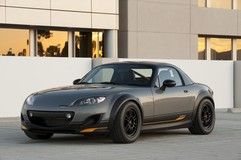 The Mazda 2 Evil Track car (no, we're not quite sure about that name either) is also a fully committed racer that conforms to all the relevant US motorsport requirements for series racing.
Read more details on the three mad SEMA Mazdas in the press release here