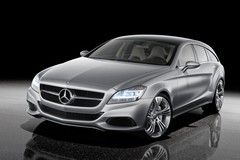 Not the CLC estate (this one's the CLS)
Mercedes has confirmed that it will be adding a second 'shooting brake' model to its line-up, even before the first one has been revealed.
The CLC Shooting Brake (note to Mercedes: can we call them estates, please? It saves arguments...) will appear in 2014, (we're told by industry website Automotive News) a short while after Mercedes presents its new CLC, which will be a four-door coupe to take on the likes of the forthcoming four-door Audi A3.
It's all part of Merc's new-model offensive, the aim of which appears to be to 'do an Audi' by launching a flurry of models and bodystyles until they find one that you will buy.
The CLC estate will be the second 'shooting brake' Mercedes; an estate version of the larger, glitzier CLS, based on the 'Shooting Break' (sic) concept from the 2010 Beijing motor show will be with us in 2012.
Although it will look estate-esque, the CLC most likely won't major on practicality - it is expected to compete with the Audi A5 Sportback and soon-to-be-revealed BMW 3-series GT.
Unlike the CLS estate, however, the CLC version will be front- or four-wheel drive.