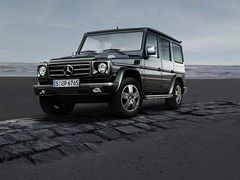 The iconic Mercedes G class off-roader will return to the UK later in 2010, this time with proper 'factory' right-hand drive.
The G was last available here in 2004, when you could buy a G55 model for around the £100k mark. Back then the car featured a right hand drive conversion by AMG, whereas the new right hand drive cars arriving in the UK from October will be built that way on the G class production line at the Magna-Steyr factory in Graz, Austria.
The first new G class to arrive will be the G500 petrol V8, which is likely to cost between £70-80k in UK showrooms according to our source at M-B. In 2011 the G500 should be joined by the latest G350 diesel, and also the G55 Kompressor which our informant says is likely to have a list price 'starting with a nine'.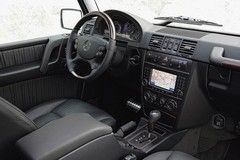 At those prices, it's not surprising M-B expects the market for the new Gs to be limited, which is why there'll initially be only a single sales outlet in the UK - namely Mercedes-Benz World at Brooklands in Surrey.
In spite of their 40 year old design heritage, the new Gs naturally come with all the latest telematics packages Merc has to offer, and tend to be indulgently trimmed. For those who can afford it, they make interesting daily transport as I found on a quick ride in a very highly-specced G500 in Detroit last week.
Merc had laid on a couple as airport 'limos' for journalists at the motor show, and all the most discerning hacks passed over various other choice bits of M-B metal and picked the G for their ride out of town. Well I did, anyway!