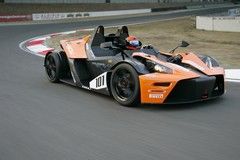 A mid-engined limited-run Abarth Sports car due out in 2013 will use KTM running gear, it seems.
The news that Abarth is to use X-Bow underbits for its new sports car - which comes out of Italy via the chaps at US car mag Road & Track - means that Lotus has lost out in bid to provide the basis for the Abarth car.
Originally Abarth had been in discussions with Hethel, but the Elise's age (its basic platform will be 18 years old by 2013) and high cost has pushed Abarth in other directions.
Should the deal with KTM come to fruition, Fiat will chuck out the 2.0-litre Audi lump, and drop in a 180-190bhp version of its latest 1.8-litre MultiAir engine. Abarth will also clothe the car in bespoke bodywork and create its own cabin for the car.
Price-wise, R&T reckons it could cost up to £50k, which is a lot for a fast Fiat, with 1500-2000 units to be made over a three-year cycle.