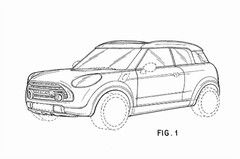 These patent application drawings give the best clue yet as to how the new Mini Crossman SUV will look when it hits showrooms later this year.
The images have leaked onto the web just days before the Mini Beachcomber concept is due to be unveiled at the Detroit show.
As expected, they reveal that the Mini Moke-inspired Beachcomber is basically little more than a stripped-down, blinged-up version of what will become the Crossman, a supermini-sized SUV.
One more thing the drawings seem to reveal are Mini Clubman-style 'suicide' rear-hinged rear doors. The boot sticks to a conventional hatch, however, avoiding a Clubman-style 'twin-door' layout or SUV-style side-hinged boot.