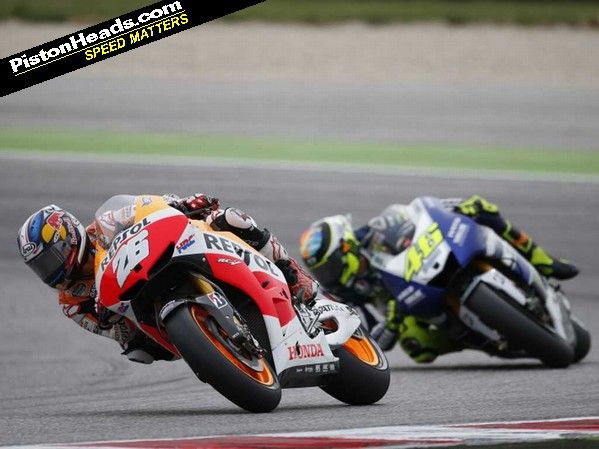 Having been the rider most thought would fire himself into orbit at every available opportunity, with 12 rounds down class rookie Marc Marquez is now very much the man to beat for the championship. But with a new seamless gearbox, could Lorenzo start to reduce the Spaniard's points gap at Misano?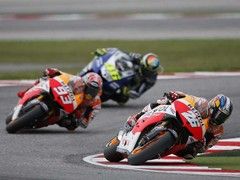 Pedrosa leads Marquez and Rossi
A flying first lap and Marc's pole was long forgotten as Lorenzo gapped the field and even Dani snuck ahead of his Repsol team mate. Unusually for Marc, he seemed a little spooked at San Marino and having nearly rear-ended Pedrosa slipped to fourth spot behind Rossi. And speaking of Rossi, the Italian round and the seamless gearbox seemed to have put some more fire in The Doctor's belly and after qualifying third he looked very keen on taking second spot from Pedrosa. But one thing this year has demonstrated is that you can never write off Marquez...
17 laps to go and Marquez set the fastest lap, 16 to go and he was past Rossi and after Dani. You just got the feeling that while Lorenzo was out of sight, it was only a matter of time until Dani's second spot was taken off him by Marc. 11 to go and a stunning overtake saw Marc steal second spot. Would he sit there or go after Lorenzo?
To be fair, with 2.9 seconds advantage, Lorenzo was out of sight, even for Marc's talents, but what must have been concerning the Spanish rider was his team mate, as Dani refused to give up the fight for second. With seven to go a bit of orange paint was swapped as Dani briefly overtook Marc before the young rider repaid the compliment. And that's how it finished. Lorenzo first, Marc second and Dani third. Marquez leaves Italy with a 34-point championship lead, but it's all even behind him between Lorenzo and Pedrosa.
Moto2 and after getting the wrong end of a four-bike scrap, Redding finished a disappointed sixth (great last corner overtake) while his championship rival Espargaro took the win, reducing Scott's lead to 23 points.
Moto3 boiled down to a two-bike race between Vinales and Rins, which was eventually won by Rins after a hectic last lap.

---
Results:
MotoGP
1. Lorenzo (Yamaha Factory Racing)
2. Marquez (Repsol Honda Team)
3. Pedrosa (Repsol Honda Team)
Moto2
1. Espargaro (Tuenti HP 40)
2. Nakagami (Italtrans Racing Team)
3. Rabat (Tuenti HP 40)
Moto3
1. Rins (Estrella Galicia 0,0)
2. Vinales Team Calvo
3. Marquez (Estrella Galicia 0,0)
Brit watch
Cal Crutchlow (MotoGP) - 6
Bradley Smith (MotoGP) - 11
Michael Laverty (MotoGP - CRT) - 18
Scott Redding (Moto2) - 6
Danny Kent (Moto2) - 19
Gino Rea - (Moto2) - 22
John McPhee (Moto3) - 20
Previous rounds:
MotoGP America
MotoGP Spain
MotoGP France
MotoGP Catalunya
MotoGP Germany
MotoGP Italy
MotoGP Qatar
MotoGP America (Indianapolis)
MotoGP Brno
MotoGP UK

---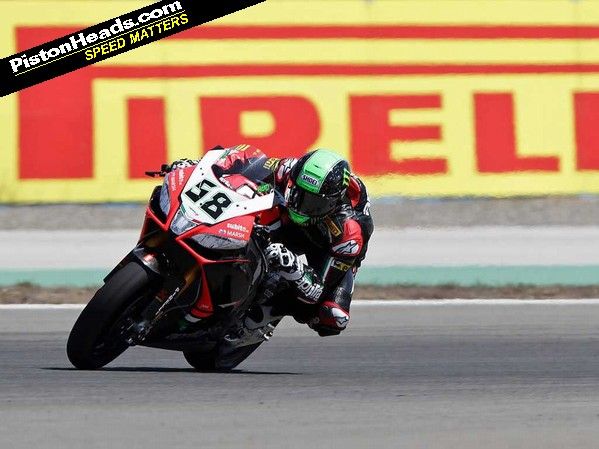 WSB Turkey
Over in Turkey and WSB welcomed the ever smiling Toni Elias into the pack, riding an Aprilia. PH2 is a huge fan of Tiger Toni, here's hoping he stays for a while. Back at the sharp end it was the usual story of Sykes leading for the majority of the race until an Aprilia nips past. This time it was Laverty who took the win with Melandri second and Sykes just third from Guintoli. You have to love the last lap clashes at the final corner, Toni must be wondering what the hell he has signed up for! How did he keep that bike upright?
Race two and having led for his usual stack of laps, Sykes was eventually once again overtaken by Laverty, although this time he held on to take second spot with Guintoli in third.
In Supersport, Turkish rider Kenan Sofuoglu took the win from Brit Sam Lowes by four hundredths of a second, although the Brit still leads the championship.

---
Results:
Race one:
1. Laverty (Aprilia Racing Team)
2. Melandri (BMW Motorrad GoldBet SBK)
3. Sykes (Kawasaki Racing Team)
Race two:
1. Laverty (Aprilia Racing Team)
2. Sykes (Kawasaki Racing Team)
3. Guintoli (Aprilia Racing Team)
Championship places:
1. Sykes (Kawasaki Racing Team)
2. Guintoli (Aprilia Racing Team)
3. Laverty (Aprilia Racing Team)
Brit watch:
Eugene Laverty (Aprilia) - 1, 1
Tom Sykes (Kawasaki) - 3, 2
Leon Camier (Suzuki) - DNS
Leon Haslam (Honda) - 8, 8
Jonathan Rea (Honda) - DNS
Chaz Davies (BMW) - 8, 6

Previous rounds:
World Superbikes Australia
World Superbikes Spain
World Superbikes Holland
World Superbikes Italy
World Superbikes Britain (Donington)
World Superbikes Portugal
World Superbikes Italy
World Superbikes Russia
World Superbikes Britain (Silverstone)
WSB Germany