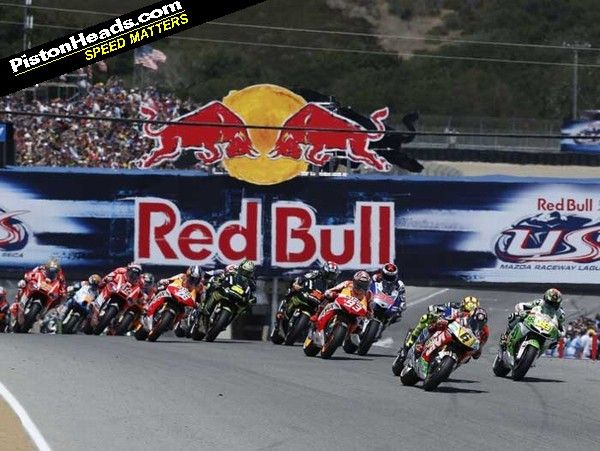 As surprises go, Bradl sticking his Honda on pole at Laguna ahead of Marquez was right up there. Could the German rider convert his first ever pole to a win? With Marquez looking fast, Rossi and Cal constant threats and even the beaten-up duo of Pedrosa and Lorenzo showing their speed you had to think any podium appearance would be a tall order for Bradl.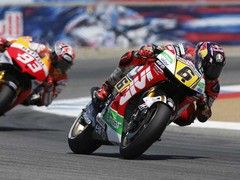 Bradl got off to a flying start at Laguna Seca
Qualifying seemed to suggest Laguna was a Honda circuit; what a shame no one mentioned this to Rossi, who made a cracking start and rocketed into second place behind Bradl. Could they make good their escape? Not with Marquez starting to wake up...
With nearly a second gap between Bradl and Rossi, Marquez gave Rossi some of the same treatment he gave Stoner a few years ago at the corkscrew and set off after the German. You have to say, Marquez's entertainment value gets better by the race, although Rossi may not have been smiling.
By mid race you had to hand it to Bradl who was still leading the way, although Marquez was right on his tail. The 'Honda nature' of the American circuit was starting to show with Bautista catching Rossi and Pedrosa also making up time on The Doctor. Four out of the top five rides were on Hondas, and with 14 to go the leader was now a Repsol bike as Marquez made his somewhat inevitable move. A lap later the Spaniard had extended his lead to over half a second, effectively stamping out the German's chances of a maiden MotoGP win. With first and second places all but sorted, who would get the remaining podium place? And more interestingly, would anyone run out of fuel in the last few laps?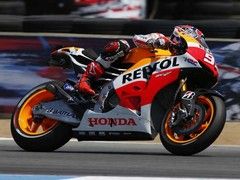 But, as expected, the Hondas dominated
As the laps ticked down the fuel demon didn't raise its head and Marquez took a relatively easy win from Bradl with Rossi and Bautista providing the last lap entertainment. There is no love lost between the pair (if Bautista hadn't taken out Rossi earlier in the season the leader board would be even more interesting) but at Laguna, Rossi got the upper hand and final podium spot. Just!
---
Results:
MotoGP
1. Marc Marquez (Repsol Honda Team)
2. Stefan Bradl (LCR Honda MotoGP)
3. Valentino Rossi (Yamaha Factory Racing)
Brit watch
Cal Crutchlow (MotoGP) - 7
Bradley Smith (MotoGP) - DNF
Michael Laverty (MotoGP - CRT) - DNF

---
Previous rounds:
MotoGP Italy
MotoGP Qatar
MotoGP America
MotoGP Spain
MotoGP France
MotoGP Catalunya
MotoGP Germany

---
World Superbikes - Russia
The Moscow circuit isn't a favourite of the WSB riders and Tom Sykes must be really disliking Russia after his Kawasaki let go in rather spectacular style in the opening few laps. After dominating practice Moscow looked like an easy brace of wins for Sykes, maybe his luck would change for race two.
After a series of crashes in the opening laps Chaz Davies took the lead on the first half of the race - and then it rained. New WSB rules mean that, like MotoGP, there is no stopping a race for the weather and instead an old-school wheel change (no bike swapping as in MotoGP) is required, taking up costly time. With half the track dry and half very wet, which of the leaders would opt to swap first?
Down the order Camier blinked first, diving in for wets, while the rest of the field were slip-sliding around on slicks. With a decent lead over team mate Melandri, Davies could afford to be cautious at the front, certainly more cautious than the Aprilia duo for Guintoli and Laverty, Jonathan Rea and Leon Haslam in the battle for third.
With the rain really starting to come down and 10 laps to go, Camier's decision to go early for wets looked like it could to prove to be a masterstroke, especially when Haslam and Laverty demonstrated how tricky the conditions were by crashing out.
Five laps to go and with the rain hammering down both leader Davies, second place Melandri and a chunk of other riders pitted for wets, leaving Baz in the lead. Could he hold on for five laps on slicks while everyone else was circulating on wets? Not a hope!
With Melandri overtaking Davies in the pits, the two BMWs soon reeled in Baz as his slicks proved as much use as mud flaps on a tortoise. Melandri took the win, Davies second and possibly the biggest shock of the day - the Ducati Panigale of Badovini in third spot. It took some freaky conditions, but finally Ducati's WSB team have some silverware...
Tragically Supersport rider Andrea Antonelli was killed after an accident in the opening lap of the Supersport race and the WSB organisers cancelled the rest of the meeting. PH2 extends its sympathies to all who knew him.

---
Results:
Race one:
1. Marco Melandri (BMW Motorrad Goldbet SBK)
2. Chaz Davies (BMW Motorrad Goldbet SBK)
3. Ayrton Badovini (Team Ducati Alstare)
Championship places
1 Sylvain Guintoli Aprilia 239 
2 Tom Sykes Kawasaki 235 
3 Marco Melandri BMW 207
Brit watch
Eugene Laverty (Aprilia Racing Team) - DNF
Tom Sykes (Kawasaki Racing Team) - DNF
Leon Camier (Suzuki) - 9
Leon Haslam (Pata Honda World Superbike) - DNF
Jonathan Rea (Pata Honda World Superbike) - 4 
Chaz Davies (BMW Motorrad GoldBet SBK) - 2 

---
Previous rounds:
World Superbikes Australia
World Superbikes Spain
World Superbikes Holland
World Superbikes Italy
World Superbikes Britain
World Superbikes Portugal
World Superbikes Italy