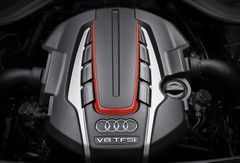 New engine goes in...
Audi's 5.2 litre V10 FSI engine has been dropped for a new bi-turbo V8 in the firm's top end S quattro models - a line-up that's about to be boosted by a new S7 Sportback.
The new engine and new S7 variant are part of Audi's imminent Frankfurt show story, and all the new models will be available to order here in the UK in the final quarter of next year. Which is a bit of a wait, but 'good things' and all that...
The new V8 offers 420hp in the S6 and S7, and a meatier 520hp in the S8 - with the two versions offering 405 and 479lb ft respectively. That's enough for 0-62mph times of 4.8secs for the S6, 4.9secs for the S6 Avant and S7, and 4.2secs for the S8. All are limited to 155mph.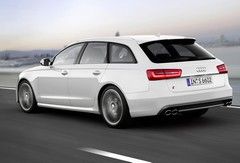 ...latest S6...
The new engine features a cylinder deactivation system that disengages four of the eight cylinders under part load to maximise fuel efficiency, and start-stop and energy recuperation systems also feature as standard. As a result, the cars can all achieve between 27.7 and 29.1mpg on the Euro cycle which is an improvement of up to 25 percent against the V10.
In order to reduce any distress owners might feel from hearing their engines straining earnestly in four cylinder mode, Audi has specified an Active Noise Cancellation system. This features four microphones in the headlining and a computer that broadcasts 'antiphase' sounds to cancel any of the less salubrious engine/exhaust notes.
| | |
| --- | --- |
| ...and the new S7. | |