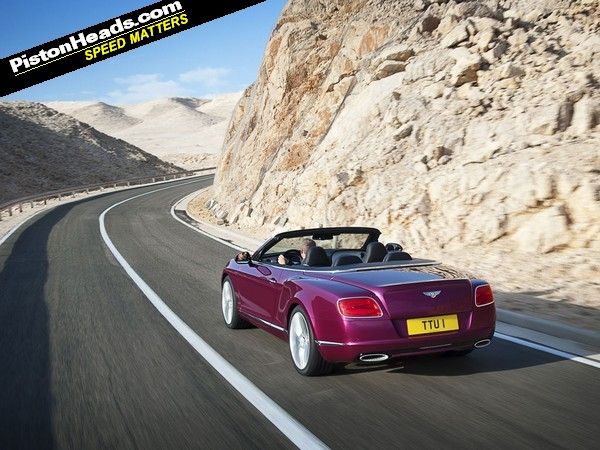 How's 2013 looking for you? Any less gloomy than 2012? Given headlines dominated by fiscal cliffs and the rest it doesn't really sound like it but Bentley is trying to lift our mood a little with the second-gen Speed version of the GT Convertible. At 202mph it's the fastest four-seater drop-top available and a token 2mph faster than
the old one
which, where conditions allow and all that, puts the bluster into Bentley 'blower' for you and three friends.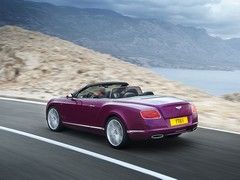 Probably not photographed in Detroit...
With an adequate 625hp and 590lb ft of torque, the GT Speed Convertible's 6.0-litre W12 drives all four wheels through ZF's all-conquering eight-speed auto. A 10mm ride height drop and unique-to-the-model 21-inch wheels mark the Speed out from (relatively) lesser GTCs with their pitiful 575hp engines. A dark grille and rifled exhausts underline the point.
Bentley is showing some chutzpah in unveiling the new Speed Convertible in the economically ravaged environs of Detroit (it debuts at next week's motor show there) rather than one of its more buoyant markets. Indeed, of all the places you really wouldn't want to drive around in a drop-top Bentley Detroit in January would have to rate pretty highly, no matter that the hood is insulated to -30 degrees.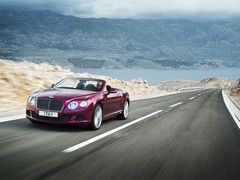 Blustery way to prove 200mph cred
Should you have somewhere sunnier and less edgy to enjoy your new Speed Convertible, what's to expect? Kind of what you'd have anticipated of a soft-top version of the
Speed coupe
really. It's 175kg heavier than that car, to the cost of 3mph from the top speed (202mph) and a tenth to the 0-62mph time, which is now 4.1 seconds. The extra weight is more telling on the 0-100mph run, with the cabrio taking 9.7 seconds over the coupe's 9.0 dead. It's a tad slower than the 640hp old-shape Supersports-based
Ice Speed Record cabrio
we drove last year, admittedly. Like it really matters - it's plenty rapid enough to wear the Speed badge and isn't likely to leave you feeling short changed performance-wise.
The Speed Convertible is, to put it tactfully, at the 'new money' end of the Bentley customer spectrum these days but, of course, Bentley's famous Le Mans racers back in the day were big, fast, open top tourers. So how about clawing back some cred by entering a British Racing Green one into Le Mans and having it driven by a bunch of champagne-fuelled, moustachioed posh boys in white boiler suits? No? C'mon, that'd be a PH kind of new year's resolution!