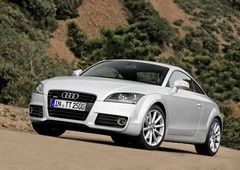 It's mid-life facelift time for the Audi TT, with a subtle nip and tuck to the styling, an all-new engine option and a 'Sport' mode.
The most significant changes are under the bonnet (or under some bonnets - the TDI, 1.8 TFSI, TTS and TTRS remain unchanged), where the 197bhp 2.0 TFSI and the 3.2-litre V6 have been dropped in favour of a 208bhp, 258lb ft 2.0-litre turbo four (as seen in the Golf GTI).
The new motor can get the TT from rest to 62mph in 5.6secs, provided it's equipped with the S-tronic twin-clutch gearbox.
On cars with magnetic ride control, the new Sport button gives you the option of an even stiffer damper set-up for the car, a sharper throttle response, less power assistance for the steering and an extra sporty tone to the exhaust.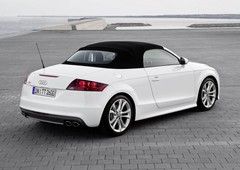 As for the visual tweaks, there are some marginally sharper lines on the front bumper, bigger front air intakes, a gloss-black grille, a wider rear diffuser panel and chrome fog lamps. All TTs now also get the near-ubiquitous LED daytime running lights.
There have been minor fiddlings on the inside, too. With some new aluminium and gloss-black inserts as well as new nougat brown, titanium grey and garnet red cabin colour options.