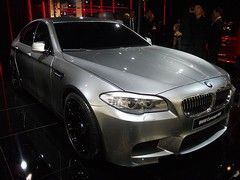 BMW has finally given its fifth-generation M5 its first public unveiling at the Shanghai motor show.
Although still officially a concept, what you see here is effectively the production version of the new M car, even though that won't make a public appearance until the Frankfurt motor show in September.
Sadly, the high-revving naturally aspirated V10 has gone, replaced by a twin-turbo, 4.4-litre V8 (as seen in the X5 M and X6 M.
The new M5 makes 552bhp and 510lb ft from its 4395cc turbocharged V8. That's 52bhp up and 126lb ft better than the old V10, which should be some compensation for fans of natural aspiration. The 'S63' motor has also undergone some tweakery to its induction and exhausts for more top-end power and a sharper response than the X5 M and X6 M provide.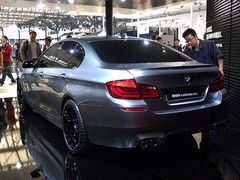 Power is driven to the rear wheels via a seven-speed dual-clutch gearbox, although word is that an all-wheel-drive version is currently being mulled-over by BMW.
The new M5 should, says BMW, improve fuel economy by 25 per cent over the previous model, thanks in large part to regenerative braking tech and a stop-start function, while the use of carbon fibre and aluminium should help to keep the weight of the new F10 model roughly on a par with the old E60 version, despite the new car being larger
Visually, the M5 is as subtle as you'd expect (wheels notwithstanding), although the mildly pumped wheel arches are actually a departure for M cars, which don't usually feature reprofiled bodywork. At the rear are a small lip spoiler and an underbody diffuser, both of which help to increase downforce at speed.