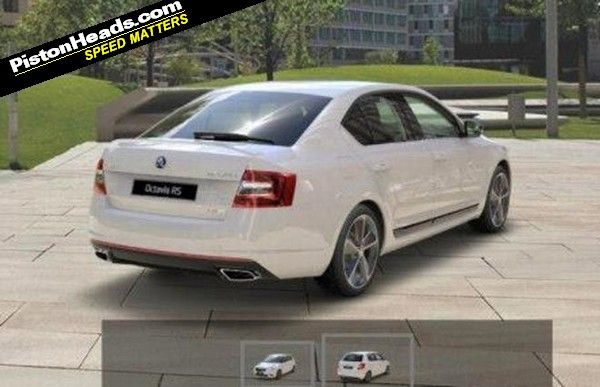 Lovers of alternative hot hatches and undercover police drivers, rejoice: here's a sneak preview of the new Octavia vRS, thanks to an inadvertent leak from Skoda itself.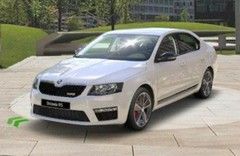 Soon to be seen with blue lights behind the grille
The new vRS will make its official debut next July, and should look something like this. It's a case of evolution rather than revolution, with the new model's looks based heavily on those of the
previous generation
. Square-set grilles, thumping great exhausts and a boot-mounted hoop spoiler all echo older vRSs. There's nothing groundbreaking here, but it isn't offensive, either.
There's no word yet on the technical specification of the new model, but it's looking as though it'll get a version of the Mk7 Golf GTI's 2.0-litre TFSI engine, which should be rated somewhere around the 200hp mark.
Pictures of the new model appeared briefly as part of the online car configurator on Skoda's Slovak website. Apparently, configuring your Fabia in a certain way brought up these pictures of the new vRS. Unsurprisingly, the configurator has now been taken down for 'technical reasons'. Oops.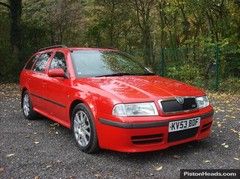 First-gen estate still a great buy
Meanwhile, it's now possible to get hold of one of the
first-generation vRSs for £2,000
, which seems pretty good value for a genuinely entertaining driver's car that has space for the whole family. This one's done reasonable mileage, if a touch above average, and still looks good despite its age. Or, for £400 more,
you can get the estate version
, which drives just as tidily and has vast reserves of carrying capacity in its boxy behind. Both models have 180hp from the proven 1.8-litre 20v turbo that has seen service in the Golf GTi, Leon Cupra and Audi S3, plus a whole host of others. And if that's not quite enough power for you, it's easily re-mappable, too. Tempting, no?