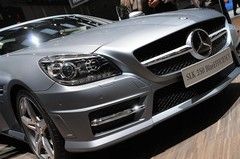 Mercedes Benz has these two debuts on its Geneva stand: the C Class Coupe and the third generation SLK, although we'll have to wait a bit longer for the AMG versions to come through.
The Coupe effectively replaces the old CLK, filling the gap in the market as the E-class has grown with each incarnation. It's pitched squarely at three series coupe buyers, so BMW - and Audi for that matter - must be worried that Mercedes is finally fielding some genuine competition in this executive heartland.
Five engines are initially available: two turbo diesels up to 204bhp (C250CDI) and three petrols - a pair of 1.8 turbo engines and the 306bhp V6.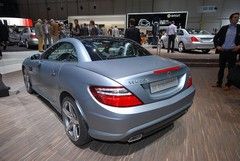 The SLK continues the trend started with the previous car in moving the baby Merc away from the effeminate image of the original. It's an aggressive little machine, with design cues from the SLS as well as Mercedes' back catalogue. Three engines are available from launch: a pair of 1.8 Turbo engines in the SLK200 and 250, and the grunty 3.5-litre V6 in the SLK 350.
But the SLK still has some priorities away from what we might consider a sports car's core values: consider the new stand-out feature, the 'Magic Sky' roof system that turns the optional panoramic glass roof from dark to light at the touch of a button...
And what of those AMG variants? Expect them to use a new 5.5-litre V8, essentially the new bi turbo motor from the S63 and CLS 63 minus the turbos.