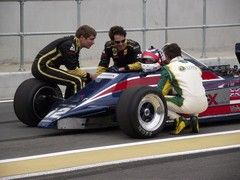 Lotus old stagers meet the young turks
F1, Indy, and (sadly not - yet!) Le Mans legend Nigel Mansell squeezed his legendary frame back into his first F1 car yesterday, before blasting it around the newly refurbished Hethel test track at its official opening ceremony.
Nigel's Lotus 81 has been newly (we think) restored to its original 1980 Essex Petroleum livery - a year later it went black and gold with JPS - and it was a genuinely evocative moment to see the great man reunited with the machine that gave him his start at the pinnacle of motorsport.
The Lotus 81 belongs to Classic Team Lotus, a company owned by Clive Chapman (son of founder Colin), and Nigel evidently remains on close terms with the Chapman family - Colin's wife Hazel was also there for the celebrations, and emotions at times seemed to be running high.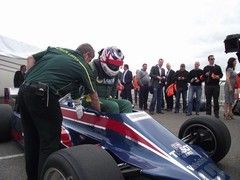 "Gnnn-mmmphhhh!!!"
Other racing celebs at the affair included former F1 star Jean Alesi who alongside Nigel has been signed up as a 'mentor' for Lotus customers buying into
the T125 F1 experience programme
.
Current Lotus-badged F1 driver Vitaly Petrov and test driver Bruno Senna were also on hand, as were Johnny Mowlem and James Rossiter who have recently returned from a successful 7th in GTE-Pro class result at Le Mans with the Evora - the company's first appearance there since the Elise GT1 in 1997. Evora GT racers Greg and Leo Mansell turned up for the big day too.
Also on hand to witness the event was the man from Malaysia who signs the cheques, Proton's boss Dato' Sri Syed. (And for the record, he was definitely smiling!)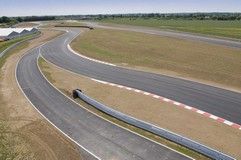 A view of the new £10m test track
The newly refurbished test track at Lotus is 3.6km, will soon have 12 pit garages, and conforms to current FIA safety regs. It's the result of a £3m investment and we can't wait to have a go on it.
(We managed to capture a typical PH-quality phone-cam video of Nigel's getaway. Lotus promises there'll be a proper video on their website soon, so only watch ours if you're really keen...)
Warning - the following clip is in PHvideoramavision...