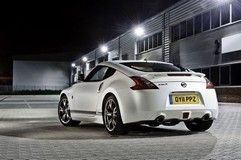 A 370Z GT Edition has been unveiled by Nissan, featuring tweaked suspension, body stripes and anthracite-coloured RAYS alloys.
The new limited edition (we're not sure how limited) has been developed 'to celebrate global success in GT racing and 40 years of Z in the UK', the company says.
The side stripes are described as 'a nod to the 1970s', but we'd be more interested in the suspension changes - the dampers have been retuned 'to improve the balance between ride comfort and high speed handling'. As the car also features improved underbody insulation to reduce road noise, we can only hope the 'Z' isn't going soft again. (Although being a bit of an old fart I did once suggest the current model's road noise could be tiresome. And, on second thoughts, does anyone else think the old 280 ZX Targa might be slipping quietly back into the realms of the quasi-desirable..?)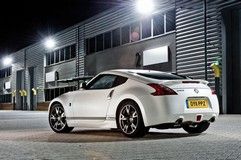 Back to the news at hand, and the 370Z GT Edition comes in three colours - Pearl White, Kuro Black, and Black Rose - all with 'GT stripes' in grey.
Equipment upgrades include reversing camera and tyre pressure monitors, the seven speed auto now has 'snow mode', and the price is £35k. Which all sounds not too bad.