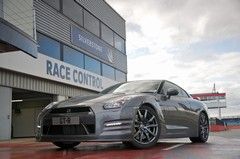 Nissan has revealed its latest version of the GT-R - and it's got still more power.
There are now 542 horses beneath the bonnet (up from 523bhp) while torque is up 15lb ft to 466lb ft. This coincides with the mpg figure creeping up to 24 on the combined cycle, up from 23.5.
Intiguingly, Nissan has also fitted a newly developed asymmetric suspension for the front of the car to help compensate for the greater weight on the driver's side on RHD examples.
Perhaps the most intriguing news, however, is that Nissan a track-focused version specifically for Japan and the UK. Exactly what form this will take, and what price both it and the MY 2012 car will be, we shall find out in early December...