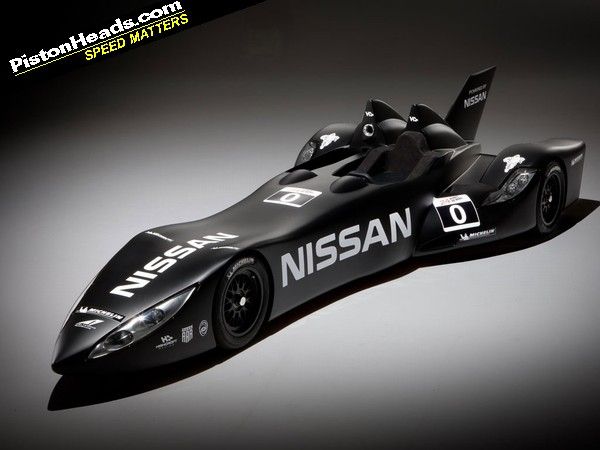 We reported last July on confirmation that the incredible looking DeltaWing racer had been
granted an entry into this year's Le Mans
and today the plot has thickened further with Nissan officially heading the project up.
PH has a man on the ground at the launch of the collaboration taking place in London today and a full, in-depth story will follow shortly.
But the short version is that Nissan is now an official partner in the project, the car gaining a sinister coat of black paint to appear even more Batmobile like and a 1.6-litre, four-cylinder DIG-T engine vaguely related to that used by the Juke. It'll develop around 300hp but that's half the power - and cylinder count - of most LMP1 and LMP2 rivals, the DeltaWing's lap times nonetheless expected to be on a pace between these two classes.
As we reported previously, the DeltaWing has been given the ceremonial 'garage 56' reserved for experimental cars and Nissan will be hoping the bold claims for aerodynamic efficiency will play out. Clearly there'll be nothing like the DeltaWing competing in the race, the car racing with a number 0 and not eligible for any points or prizes beyond the glory of being the most radical looking car on the grid and a very visible symbol of how pioneering race technology can, hopefully, translate to road cars of the future. Audi has, of course, long made such claims with the TDI technology underpinning its recent Le Mans dominance but the Nissan DeltaWing takes this to a whole new level.
Drivers have so far been confirmed as Marino Franchitti and reigning Nissan LMP1 champion Michael Krumm. The car will make its first demonstration laps in Sebring in a few days and we'll be taking a more detailed look very soon.