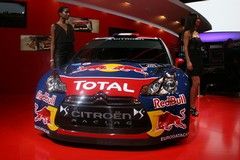 This is the new Citroen DS3 WRC, unveiled to the public for the first time at the Paris show. Yes, it's pretty funky-looking but no, you can't buy one (not even if you're planning on creating your very own WRC team - we asked).
Now Citroen might not be the most super-exciting of marques (your humble scribbler had to stare at the brand-new C4 for a full five minutes before realising that it was, in fact, an all-new car). Even so, a brand-spanking contender for the WRC, where Citroen has reigned near-unbeatable for years (Sebastien Loeb is on the cusp of an incredible seventh consecutive world title) is pretty exciting stuff.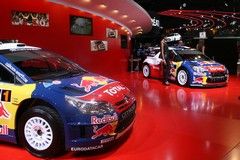 Monsieur Loeb's new wheels, like the new Mini Countryman WRC, have been designed to fit in with new leaner and cheaper WRC rules, which come into play for the start of the 2011 season.
That means simpler electronics and mechanicals, at the heart of which is a four-wheel drivetrain and a 1.6-litre turbocharged motor that should push out around 280-300bhp.
Unfortunately, the closest we're going to get is the limited-edition DS3 Racing - which will cost an eye-watering £23k and put out 207hp. If rallying's really your thing, though, there's always the front-wheel drive competition-spec DS3 R3...