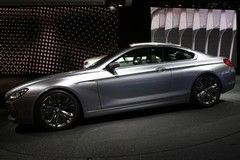 It's time to say goodbye to the current 6 Series and hello to a far more interesting version entirely. More aesthetically interesting at least, as BMW is finally showing us the 6 Series 'Concept' it's been teasing us with in disguised prototype form for months. In the metal, the new one doesn't disappoint.
Outside the 'Concept' 6 takes cues from both the mildly dull Gran Coupé Concept and BMW's heritage to create something truly different. The long bonnet, short overhang and low profile give the impression that it's far more elegant and stylish facsimile of the old car - which, in this case, is no bad thing.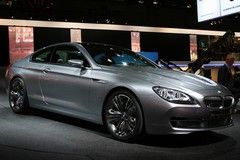 At the rear a new set of L-shaped lights wrap around the boot to connect side to rear, and notably LEDs are used pretty much all around for lighting.
Inside is all about the driver. There's a freestanding 10.2-inch display for the iDrive system bang in the middle of the instrument panel, a HUD as per the outgoing 6, and sound provided by the audio wizards at Band & Olufsen.
Currently we don't know what engines will power the finished 6 Series, but it's safe to expect a thoroughly 'remappable' 635d and 635i as well as a turbocharged 650 V8. We'll find out in April 2011 when the new range goes on sale - if not before.