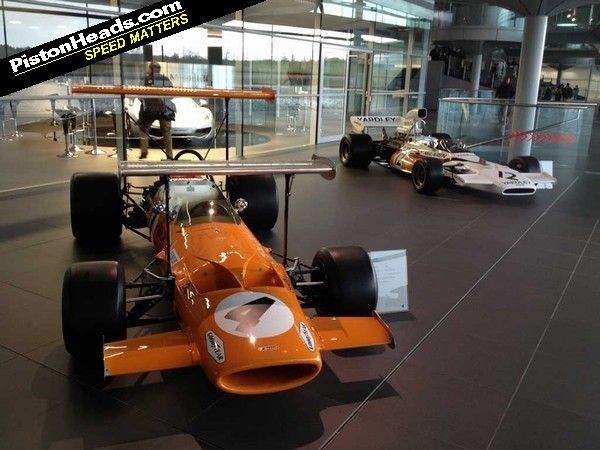 A visit to McLaren's Technology Centre in Woking this morning has given us the chance to revel in the presence of these fantastic oldies. The pop-riveted flanks of Bruce McLaren's M7C and Denny Hulme's M12C are a world away from the glassy modernity of the building that today houses them, and the stark, upright spoilers and exposed engines tell of a different era.
We're here for the reveal of McLaren's MP4-28 - the team's Formula 1 car for the 2013 season - of which more anon. And set against that new car, with its fluid lines honed by decades of wind tunnel work, the older cars seem remarkably primitive - the M7C with its ungainly front wing especially so.
Of course, in their day they were anything but - and even today, the raw speed and grip they offer is beyond anything us mere mortals can hope to experience. But what we can enjoy is the healthy dose of nostalgia they imbue; the memories they conjure of times past and, as some would have it, the glory days of Formula 1. And while celebrating its heritage has obvious commercial benefits for McLaren, it's still gratifying to see that the company is happy to keep and maintain these older cars. Doing so allows those of us who never got the chance to see them back in the day to enjoy their old-school charm first hand, and to bring to life the vast and rich heritage that Formula 1 can boast. Good show, McLaren.
Alex