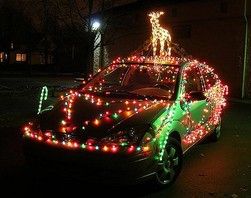 Merry Christmas
Who said 2011 PistonHeads meets were over? Did you think that in the midst of a classified overhaul we'd forget the pleasure that is an early alarm call on a Sunday morning? Of course we haven't…
On Sunday 18 December we'll hold the PistonHeads end-of-season Christmas party at none other than Goodwood Motor Circuit. Yes that Goodwood, the famous one. Why is this meet called a party? Because it's a PH meet with a twist you see, and it is Christmas after all.
Held in the Goodwood paddock and pit straight areas, we can host up to 800 cars on the day and will follow the usual Sunday Service rules of opening at 09.00 and ending at 13.00. The Goodwood catering facilities will be on hand throughout the morning and as per usual your car will be the star (well, not yours Riggers).
I mentioned a twist, didn't I? Let me elaborate. As it is Christmas, Goodwood will offer up a prize of two tickets to the 2012 Festival of Speed for the best-decorated car/person capturing the spirit of Christmas. We'll add in a pair of tickets for the Autosport International show as a second prize too, so get thinking...
To reserve your space please sign up to the calendar in the usual way and nearer the time we will e-mail you a PDF to print out and display as you arrive. Do you need a better excuse to avoid last minute Christmas shopping?
To reserve your place sign up here
And if you want to help PH out with a spot of marshalling on the day, please send me an e-mail...
The guys at Goodwood have asked us to pass on the good news about 2012 FOS tickets too, they can now be purchased here More details on FOS can also be found here.
Ps - please remember: it's Goodwood Motor Circuit we're going to. Not the house, or the (horse) racecourse, or the hotel, or the golf course, or Rolls-Royce Motor Cars, or even that gravel layby at the top of the hill overlooking the racecourse...