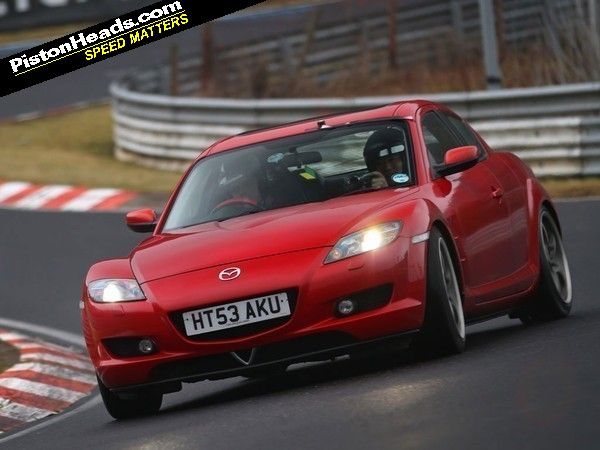 Since my last update, I've been asked the same question what feels like a million times: "Why on earth did you buy an RX-8?"
At first I was amused and actually enjoyed giving my comprehensive answer, which youcan read here. But now it's just boring. I've stopped answering. Honestly.
In fact the only Nurburgring visitors who seem to 'get' my decision to buy Mazda's rotary-powered oddity are fellow owners, both past and present. And they always have the same questions. "Is that your RX-8? Are you doing a lap today? Can I come with you?"
Now those requests are MUCH more likely to get a positive answer! One such fellow owner was Junji, all the way from Japan. His pilgrimage to the 'ring culminated in a rented Suzuki Swift, but as I walked him through the paperwork, we spotted each other's smartphone screens. Our faces cracked open in massive grins. His phone had a blue Mazdaspeed RX-8 on it, mine had the red one. We both asked the obvious "Is that yours?" question and got the obvious answer to match.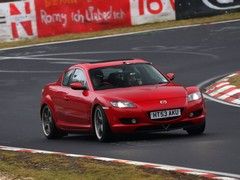 Dale and RX-8 mate Junji hit the Nordschleife
Immediately, Junji declared us "RX-8 mates" and I just had to take him for a naughty lap of the 'ring to revel in some rotary mayhem. You'll see the video below.
Junji's own car is pretty damn awesome, and the spec makes mine sound pretty lame. Every possible part from air intake to exhaust has been replaced with a sportier option. Check out his carm and crazy turn-brake-apex driving style, here.
But being the gentleman he is, he didn't mention my car's inadequacies at all. However, the spec of mine is gradually improving. After doing some internet shopping and disregarding my own advice, I bought some uprated springs with a healthy 45mm drop - and didn't replace the dampers. I also bought a de-cat pipe, but not a full exhaust. Budget is everything right now, and if I were to buy the Koni Yellow dampers I want, there won't be any money to put into 98RON and two-stroke oil - my chosen solution to prevent a poorly motor. The only other upgrades currently fitted are a full set of EBC Yellowstuff brake pads and some cheap OEM-spec discs.

Overall these cheap and cheerful mods have made the car a lot more fun. The de-cat gives me peace of mind that all my track-action and high-rev downshifts won't destroy the aging catalyser. The mild aural benefit is nice too.
EBC Yellowstuffs might not be in the Premier League of brake pads, but they are kind to discs, cheap to buy and work really well on the RX-8 with its huge discs and low kerbweight. The only mod that I'm ashamed of is the H&R springs. Not because of the performance, or even the looks, they're great. I did the Destination Nürburgring trackday Dan and Chris also attended and the whole car functioned superbly.

There's just that nagging feeling that I should have waited on the springs and done the dampers at the same time. Because while the height and strength of the springs have definitely improved the grip and removed some roll, the balance hasn't improved. It was amazing before I fitted the springs, and now it's merely excellent. I'm hoping that adjustable dampers and uprated ARBs will allow me to regain the Mazda's utterly perfectbalance soon because, after all, that's why I bought the RX-8 in the first place...
Photos: highspeedfotos.de

---
FACT SHEET
Car: Mazda RX-8
Run by: Dale Lomas
Bought: December 2011
Mileage: 881 since last report - all on track!
Purchase price: £2,800
Last month at a glance: Going sideways at the Nurburgring with fellow RX-8 owners

---
Junji in action:

Dale at Destination Nurburgring:

Dale and Junji go skidding: