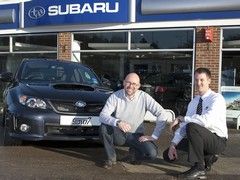 It's not everyday you get to give away a car but, in the general scheme of things, it does rate quite high on the 'warm fuzzy feeling' scale.
We found this out when the prize of a brand-new Subaru WRX STI was handed over to Rob Ellis, winner of our recent Dream Garage competition, the other day at Cross Roads Subaru in Shipston-on-Stour.
And we're pleased to report that Rob Ellis is pretty much over the moon with his new acquisition.
"I absolutely love it to bits - what a driver's car! The short-throw gearbox, the seats; it's just fantastic," says Rob. "I've got two young children, so the practicality of the four-door is very welcome, but the car still looks great and I can utilise the performance when the chance presents itself".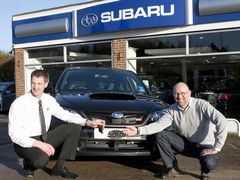 Glad you're enjoying it so far, Rob. We have to say, though, that we did have somewhat mixed feelings - you could have stuck our feet in terracotta and called us conifers when we realised we really were going to have to give away the keys to a brand new Subaru WRX STI, so green were we with jealousy.
Joking aside, though, congratulations once again Rob and we hope you and your newly acquired pride and joy enjoy many happy miles together....and you'll be able to follow Rob's progress with right here on PH via his WRX blog...
See... we do give away cars on PistonHeads...