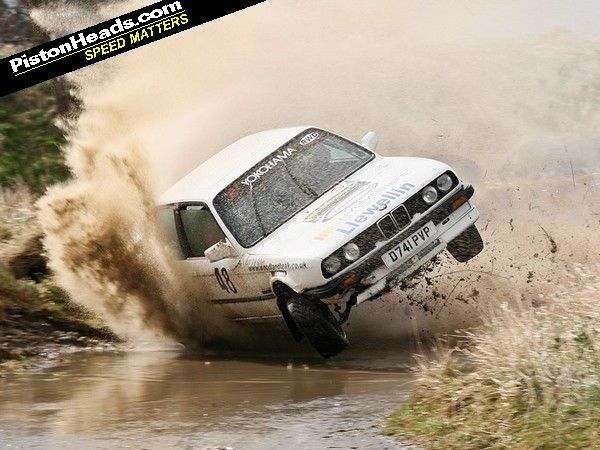 Chris Harris
loves his rally cars,
Dan Prosser has spent much of his professional life writing about them and the sport. Together quite a team, then. And in true money-where-your-mouth-is spirit they're going to be rallying an old 3 Series in the BMW RWD Challenge. This, as you might expect, may involve quite a lot of affordable sideways action, which is a good thing.
To introduce the project Chris and Dan tell their sides of the story below. We'll be returning to this over the coming months as they learn new skills, patch up their old Beemer and - ultimately - drive it in anger. Will they still be friends at the end of it? We'll see, but for now here's the first chapter in the story...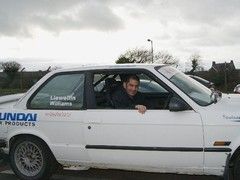 Chris Harris
It was talking to ex-British rally champion Martin Rowe that first pricked my interest in BMW 325 rally cars. We were in Norway and the topic of discussion was affordable oversteer. He immediately mentioned something called the BMW RWD Challenge - a kind of one-make series for E30s. And it immediately lodged as a project worth attempting. And it only took me four years to bite the bullet.
First up, I needed a partner in crime. So a quick call to fellow West Country man Dan Prosser secured the services of a co-driver, albeit one who has never co-driven and, as we discovered on the lengthy journey to Milford Haven, gets a slightly dickie tummy when reading in a car. "Don't worry, I won't chunder until the end of each stage" were his words of reassurance.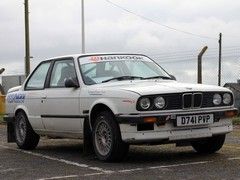 PH's mean rallying machine
The deal was struck through reciprocity. Dan likes to drive too, so in a moment of abject recklessness I agreed to swap sides for an event. I am presenting this to the world as a staunchly objective editorial strategy, allowing each of us to experience both seats, but the reality is Dan isn't stupid and I had to offer him something in the deal.
One part of the bargain was that he locate a suitable machine. He managed to do this in Milford Haven, which is closer to New York than it is London. The collection itself was an adventure, ably carried by my shagged-out old Range Rover at a steady 50mph (and 14mpg). Roland, the vendor kept disappearing behind his work premises and appearing with more spares, the last of which was a spare engine block. "Dunno what use it is boys, but it's a real Alpina 2.7 block." Actually, in the spirit of the unfair advantage, I probably shouldn't have admitted that in public. Roland ended by asking if we wanted a spare shell.
Sadly it wouldn't fit in the back of the Rangie.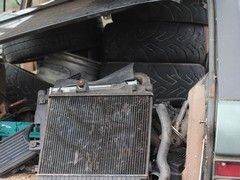 This plus a hammer and some zip ties: sorted
And so to the machine itself. It was originally a 325i Sport, and one which has less provenance than a stowaway mongrel on trans-continental travels. The accompanying shots prove that it is indeed 'well used'. It was once black, is now white. It has all the necessary bits for the RWD series: cage, cut-outs, locking diff and an engine. Plus several feet of oxidized steel. It looks plain splendid and I can't wait to test it ASAP. Power should be somewhere in the region of 160hp, which will be ample on the loose.
In the spirit of shed motorsport, the £4,000 rally car will be towed by my £1,500 Range Rover Classic and ride atop an as yet un-purchased trailer. In an ideal world the total cost of the unit would be under £7,000, so I'm looking for a cheap Brian James.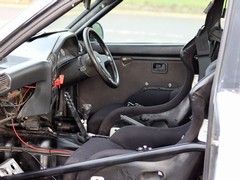 Cockpit underlines standard of prep...
What do I want to get out of this? Big oversteer in between some trees, learning to drive RWD on gravel (I've only ever done three rallies, all in FWD cars), meeting the legendary Pat Flynn who runs the championship and who, I am reliably informed, is the most passionate member of the human race on the subject of cheap skidding. Generally messing about with like-minded idiots.
Don't think we'll have the time to do every round of the championship, but we're going to have fun.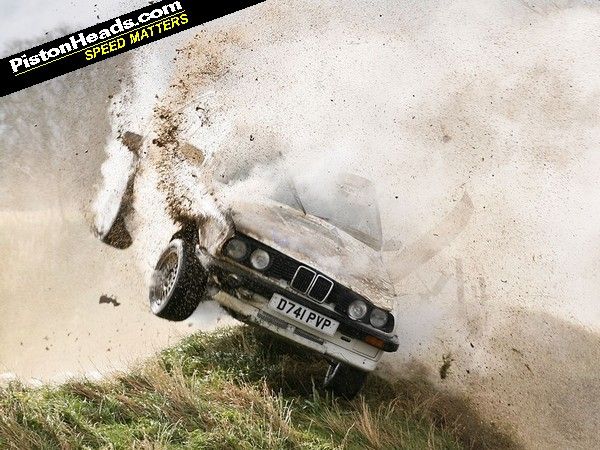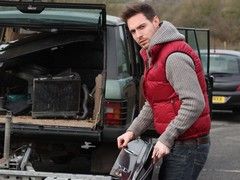 Dan Prosser
I remember Chris went quiet for a moment as we drove away from the car park having collected our new rally shed. He turned to me and said, "Two years ago I was preparing to race a Porsche 911 GT3 RS at the Nurburgring 24 Hours. Now I'm doing this with you."
Charmed.
I'm certain our efforts will lack the gloss of a professional factory programme, but I also reckon that this sort of low-budget, no-pressure, minimal-consequence motorsport is just about as fun as competitive driving gets. I can't speak for Chris, but my ambitions for my stint behind the wheel amount to successfully navigating the more popular spectator points without actually being able to hear the mocking laughs and derisive comments.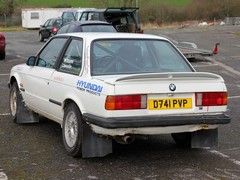 RWD rallying fun starts here
My other goal is just to learn. Learn what it is to call pace notes and put your faith in the skills of your driver, learn to drive to pace notes and read the surface of a stage, learn those driving techniques that are unique to rallying, learn to fashion a makeshift steering arm using a twig and some duct tape.
I've spent the past couple of years writing about rallying, passing comment and sometimes even criticising, without ever having had a go at the sport. That always struck me as a bit rich, so I hope that this saga will help me to better understand the psyche of a rally driver. Punting a BMW that's older than I am around a single venue event won't help me understand what runs through Sebastien Loeb's mind as he flies through a Finnish forest, but maybe I'll get an insight into what it's like to 'push as hard as possible', or 'nurse the car to the end'.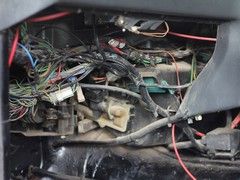 What's all this? No idea
The learning has begun already. As I drove to Milford Haven in deepest Pembrokeshire to view the 325i, I learnt that - despite living in Bristol - I absolutely do not come from the west. As the vendor executed an inch perfect doughnut in the junction of two country lanes "to prove that the car had a diff in it", I also learnt that our rally exploits will be every bit as entertaining as I'd hoped they'd be.
I'm travelling to Sweden at the end of the month to spend a couple of days on a frozen lake so that I might get my head around the specific techniques of a rally driver. I'll share my findings with you on PH. I'll also be seeking co-driving advice, lest I navigate Chris and I into a tree at 100mph through ineptitude, thus slashing a third off Porsche Finance's bottom line.
Rally on!

---
Additional photography by Ian Hardy