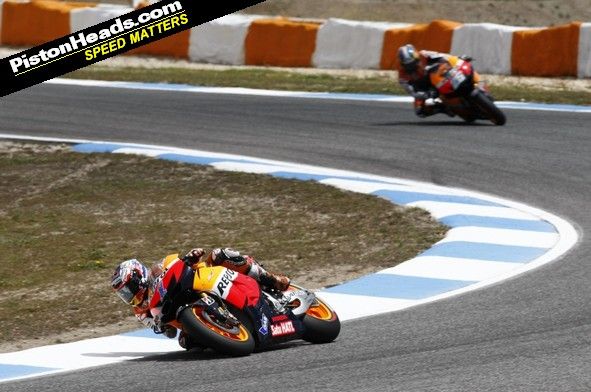 Reigning MotoGP champion Casey Stoner shocked race fans yesterday by announcing he will retire from the sport at the age of just 26. The move was completely unexpected as Stoner had fiercely denied rumours he would quit just weeks earlier, so what brought about his change of heart?
An amazingly talented rider, and one who often doesn't receive the praise he deserves from fans due to his less than characterful nature, Stoner has always said he isn't racing to beat records. Often abrupt when interviewed, Stoner prefers to let his riding do the talking and, with two MotoGP titles under his belt, (one for Ducati remember, something that Rossi looks unlikely to repeat) his class is undeniable - which is part of the cause for his retirement.
"This sport has changed a lot and it has changed to the point where I am not enjoying it," said Stoner to a stunned press conference. "I don't have the passion for it and so at this time it is better if I retire. There are a lot of things that have disappointed me, and also a lot of things that I have loved about this sport, but unfortunately the balance has gone in the wrong direction. There are many, many different reasons but basically it's me losing my passion for the racing and my enjoyment for the sport.
"Sure, I'm going to enjoy this year but I'm sure if I continue it would be a mistake. There are many things I'd like to do with my life. I don't want to keep racing bikes to the point where I lose my passion for motorcycles. I love bikes, they've been my whole life, and if I keep doing this I'm afraid I'll completely lose my passion. Maybe I'll still have some involvement in the sport, if I can find the energy, to maybe help some young riders, things like that."
Stoner was famously booed by British fans when he won at Donington a few years back and with the change to 1000cc as well as heath issues and the birth of his first child, it looks like the Australian has simply had enough. Will he be missed?
While he certainly lacks the flair that Rossi brings to the paddock, Stoner's riding is at times completely unbelievable. One of the most gifted two-wheeled racers on the planet, if not the most gifted, watching a slow motion of Stoner wrestling the Honda around a corner is a master class in machine control. With him gone we will be left with Pedrosa and Lorenzo standing head and shoulders above the rest of the rapidly depleted MotoGP field with only the chance of Cal Crutchlow and Marc Marquez, who is hotly tipped to replace Stoner in the Repsol team, threatening their superiority.
The sight of Stoner winning a race by several seconds will not be missed, but one of the most talented riders of his generation saying he doesn't enjoy riding in the premier class and that at 26 years old he is walking away is a very sad, and worrying, development for MotoGP.