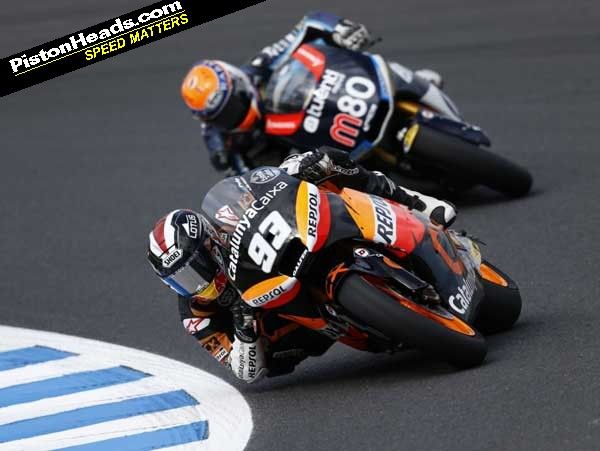 Usually PH2 kicks off with MotoGP, but after the Japanese GP at Motegi we have to give a huge congratulations to Brit Moto3 rider Danny Kent. First pole followed by first win and to top it all off not only did he sign for the Tech 3 Moto2 team he did it all at Honda's home track. Top work young man, let's hope that Tech 3 can turn around the chassis over winter to give Danny a competitive bike.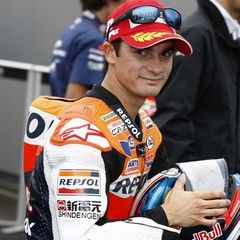 Pedrosa victorious again in Japan
MotoGP? Well what can you say? A hobbling Stoner made a reappearance at Japan but was unsurprisingly off the pace. Not only did this hamper his pace, it meant that he couldn't challenge Lorenzo and therefore help his team mate Dani Pedrosa close the championship gap. A shame for the tiny (and usually miserable) Spaniard as well as race fans as Lorenzo looks like he is happily trailing Pedrosa home to get the points and therefore the championship. And who can blame him for that?
The Motegi MotoGP race followed form – Lorenzo and Pedrosa hit the front, Lorenzo leads, Dani passes mid-race and Jorge happily follows him home. Behind them Bautista, Cal, Bradl and Dovizioso were squaring up for what looked like a decent scrap after Ben Spies' dismal 2012 season continued with an early exit. After stalking Bautista and sticking in some fierce moves in the closing laps, Cal looked on for his second podium of a cracking 2012 until disaster struck on his last lap and he ran out of fuel. Gutting, especially for his final points standings.
Moto2 and how the hell did Marquez not get nailed on the grid when he neutralled his bike on the line? Scary moments for everyone including the usually super cool Spaniard. But there is nothing more dangerous than a fired up Marquez and within a few laps he went from nearly last to top ten. At the front Scott Redding was giving it his all as usual but looked like he was struggling to hold the pace while Bradley Smith was forced to retire. Despite a comfortable championship lead, Marquez only knows one way to ride and with Pol Espargaro (his only title challenger) ahead the Spaniard still risked all to take the win. A lead of 53 points with 75 left to play for, the title is all but Marquez', although that's what it looked like last year…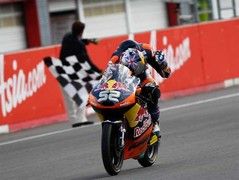 Danny Kent makes it a British win in Moto3
Moto3 and once again great work Danny Kent. With six bikes all challenging for the lead, Kent hit the front at the right time after a cracking bit of last lap carnage. Would he have stuck behind his team mate and championship leader Cortese with the chance of a maiden win? Happily Danny didn't have to make that decision and led Vinales home to take the flag while Cortese remounted to get a seriously angry sixth – dry your eyes son, you are still odds on for the championship.