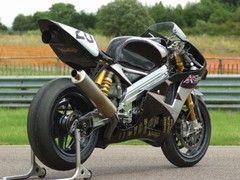 Norton's 2009 TT contender
You may remember that in 2009 Norton went to the Isle of Man TT with a bike and a bundle of old rotary race engines. The campaign did not go well. Records for the number of engines blown up in week were shattered and all the company got out of the exercise was red faces and a parade lap.
Stuart Garner, the man behind Norton, is obviously not easily put off because he's just announced that Norton is returning to the Island next year to compete in the Senior race. No rotary again, this time a 1000cc V4. A brand new engine in other words, which is why the bike housing it will only be able to race in the Senior and not the production classes. Chassis experts FTR are building the chassis and Garner says that a machine will be built in time for short circuit testing to start in September. There's no word on who'll ride the bike at the TT but Garner says that it'll be someone capable of getting on the podium.
Glory at the TT would certainly put Norton on the map, but then so would developing a broader range of road bikes. Sales of European-built bikes have never been so strong with the Japanese manufacturers struggling to make new models that punters can get excited about. And Japanese bikes have never been so uncompetitive on price. Personally, I'm concerned that launching a racing effort could seriously take their eyes off the real business of building and selling road bikes. Look at (Hinckley) Triumph's history: no racing until the brand was solidly established and then a low-key approach with the Triple Challenge.