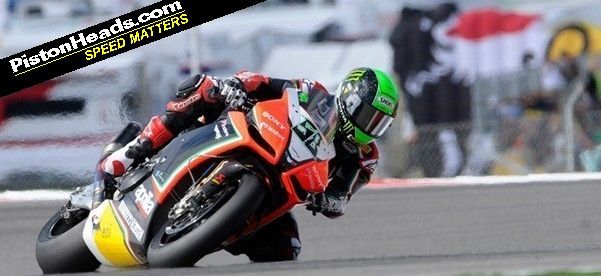 As if the undulating Portimao track wasn't tricky enough, a heavy shower added a whole new dimension of difficulty to the penultimate WSB round.
Having stuck his ZX-10R on pole, outside bet for the title Sykes got swamped on the start.Laverty took the advantage with Rea, Checa and Melandri in hot pursuit. Then it all went wrong again for the Italian…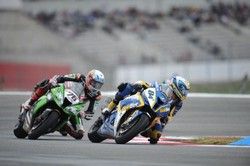 Attempting to dive up the inside of Biaggi, Melandri dropped his BMW, taking out several other riders including poor old Chaz Davies, his team mate for next year. Championship over for Melandri? After three falls in three races you have to think BMW's dream of a first WSB title is starting to fade.
Back at the front it was formation Aprilia as Laverty lead the way with Biaggi behind – both riders making the most of the RSV4's staggering top speed on Portimao's long straight.
A drying track and 22 laps was always going to lead to a race decided on whose wet tyres had deteriorated the least, but a red flag on lap eight due to oil on the track stopped play.

Race one take two, and still on a damp track the 16-lap re-started race saw Biaggi at the front with a very determined looking Sykes and Rea behind. Sykes certainly looks like the rider who wants that WSB title the most, and after overtaking Biaggi, Tom broke clear thanks to some ballsy riding.

In the closing laps Checa took advantage of the Ducati's ability to conserve its tyres, catching and putting serious pressure on Sykes, but the Brit held on for the win. Biaggi just managed to hold fourth, grabbing valuable championship points.

Race two, and with Melandri in hospital with suspected bruised kidneys Biaggi was looking for points while Sykes was again the championship dark horse. A good race would see Tom close the 14-point gap while a Biaggi fall could give the Kawasaki rider the championship lead.

Laverty set the early pace with Sykes, Davies, Biaggi and Rea behind and Checa slowing with what looked like a mechanical issue. Then disaster struck as Sykes' bike started smoking. Gutted doesn't even come close to describing the feeling when Sykes was forced to retire on lap two.

Davies took a tumble shortly after. With the excitement somewhat defused, the race was between Laverty, Biaggi and Rea. Having built up a comfortable lead, Laverty took the win, with Rea and Biaggi on the podium and Camier DNF-ing with two to go after a superb display of fairing-bashing with Biaggi. With a 30.5 point lead and only 50 left to play for it looks very much like a second WSB title for Biaggi and Aprilia.
WSB Results:
Race 1:
1 Sykes
2 Checa
3 Guintoli
4 Biaggi
5 McCormick
Race 2:
1 Laverty
2 Rea
3 Biaggi
4 Guintoli
5 Checa
Championship standings:
1 Biaggi 347
2 Sykes  316.5
3 Melandri  308.5
4 Checa 278.5
5 Rea 255.5
Brit watch: (Race 1, Race 2)
Jonathan Rea: (6, 2)
Leon Haslam: (19, DNF)
Eugene Laverty: (13,1)
Tom Sykes: (1, DNF)
Leon Camier: (11,DNF)
Chaz Davies (DNF, DNF)