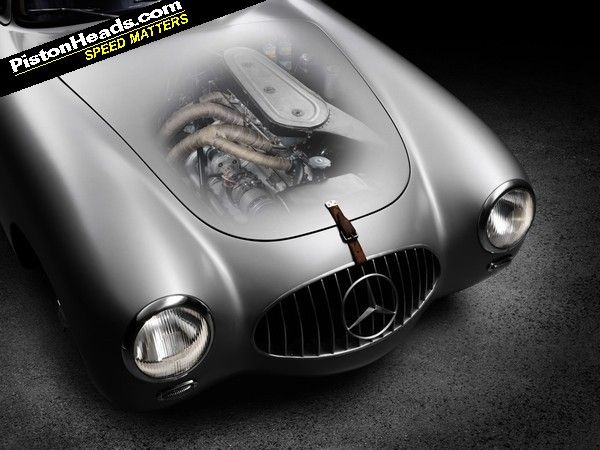 Talk of Mercedes-Benz's rather comely new E-Class coupe and convertible had us rifling through the Merc picture archive today, and in doing so we came across this fantastic shot of a 1952 W194 300SL racer.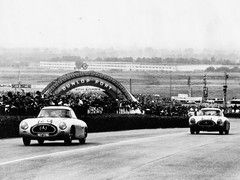 Original 300SL won Le Mans in 1952
As you might guess from the identical badging, this beast inspired the W198 300SL road car that made its debut in 1954. Like the W198, the W194 featured gullwing doors, necessitated by the bulky sills of the tubular chassis beneath.
Unlike the fuel-injected W198 the W194 featured a carburettor-fed version of the three-litre straight-six. The engine was taken from the 300-series passenger cars, and modified to take three carbs. The rest of the car was made as light as possible by drilling holes and cutting away metalwork wherever possible. The result was a car that took first and second place at Le Mans, while setting a new top speed record of 96mph,  as well as first and second on the five-day Carrera Panamerica, and all four top spots at the Nurburgring.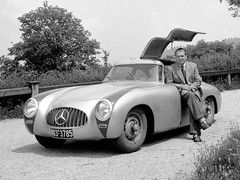 Legendary engineer Uhlenhaut with 300SL
What makes this picture so intriguing is that it's possible to see some of the engineering that made the W194 so unique. Some of those tubular chassis spars are visible at the top of the engine bay – note, indeed, how the exhaust manifold winds its way around them. That it does is testament to the heavy canting of the engine, enforced by engineers to lower the centre of gravity, as well as the bonnet line, in an effort to improve aerodynamics.
While perhaps not as famous as the road car, it's still one to remember. Enjoy!
Traditional (4:3)
Computer widescreen (16:10)
TV widescreen (16:9)
Portrait (smartphone, etc)