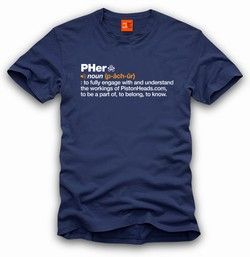 You know what it's like, there you are happily chatting away in the pub after work, telling people about your weekend hoon with other PHers before realising the blank expression on their faces. The same thing happened when you told people you quite fancied buying a shed, only to be asked if you would be laying a concrete base before building it.
People can't help it, they aren't in the know, but with the new range of PH 'definition' shirts not only can you own one of the best shirts we've ever made, you can also do your bit to educate the masses as to the ways of PH. As an added bonus they really are a stylish bit of kit, well we think so at least.
Priced at £17.99, all shirts are available in men's and women's cut, with sizing to suit all and are offered in a variety of colours too. Postage is free and the designs are also available as a mouse mat or mug if you fancy the whole set.
To see the full range, and to purchase, please visit the PistonHeads shop here
We hope you like them - now get out there and spread the word!