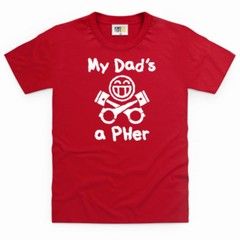 Kids, they're the future, but occasionally they need to be shown the way. Just because you insist on reading your little one your favourite threads from the PH forums, buy them toy cars and throw away school books in favour of car magazines you cannot guarantee their love of cars. You must try harder, it's your duty.
Think of PistonHeads in 30 years time. Without your help SOTW's love of cheap V8s will be drowned by cries of "where's the Leaf?" and spaces on Sunday Service meets will be determined by the number of charging points available. This can't happen. Children need to be taught how to respect proper cars and show their love of them.
Thanks to the new PH kids range you can now shun twee clothes from the High Street in favour of showing the world that your son/daughter is the future of the PistonHeads. Not only will this make your child the coolest kid down the park, it will also set them on the right path for the future and we'll thank you for it in years to come.
View the range here where you will see sizes, prices and colours.
Make sure you click on the size chart link alongside each shirt to ensure you order the correct size for your child.