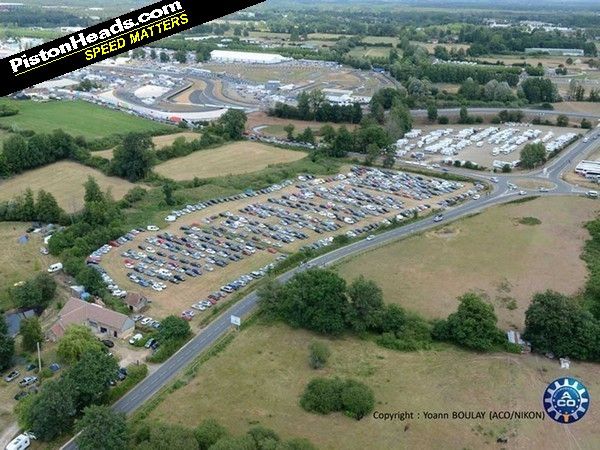 A few weeks ago we told you about our
Friday Service
to be held at Parking Du Fresne on
Friday 15th June
, nicely timed to take place just before the greatest endurance race known to man.
Location
Parking Du Fresne is in a great location, with easy access from all camp sites in Le Mans and only a stone's throw from the circuit with the Porsche Curves being just over the road. Large enough to hold 500 cars the entire PH team will be on the gate to welcome you and get you parked up quickly and safely, we'll even mark off the bumpy section of the field to avoid any unwanted car damage as you drive through. We're nice like that.
A map of the venue can be found here.
Gates open at 13.00 and close at 16.00.
Music
Today we can announce two great additions to make the Sunday, sorry, Friday Service even better. Nissan UK will come along in their Juke Box to add some (subtle and inoffensive) music in the field, but if you're thinking nightclub, think more low-level, chilled out music that doesn't intrude, but adds to the laid back feel of Le Mans in the sunshine.
Food by Jody Scheckter
Food and drink will also be available as we have agreed for Jody Scheckter's Laverstoke Park Farm to tour to Le Mans with PistonHeads. The Laverstoke team will bring their excellent range of organic produce and full outdoor cooking rig to cater the private PistonHeads campsite from Thursday to Monday (more on that in a moment). On Friday, we'll move the whole lot to the field for the Friday Service along with a full bar serving draught beers and soft drinks to ensure there is great food for all who attend. Pricing is to be confirmed, but expect to pay 10 Euros for a main meal of your choice along with a cold pint. Of course, you can choose to buy items individually too.
You can pay for your food in the field on the day, or pre-order online. As soon as we have set up the online ordering facility we will mail all who have signed up on the calendar with full details.
How to attend
Entrance is free; all you need to do is sign up on the calendar to help us keep track of numbers and if you fancy strolling over from your campsite please mark yourself as a pedestrian leaving the car spaces free for those who plan to drive.
We are very excited about hosting this meet and would love to see as many Le Mans going PHers there as possible. Thanks in advance for your support and also to Team Laverstoke for making the jaunt with us across the channel, 1st-Tickets for their ongoing support and Nissan UK for getting involved too.