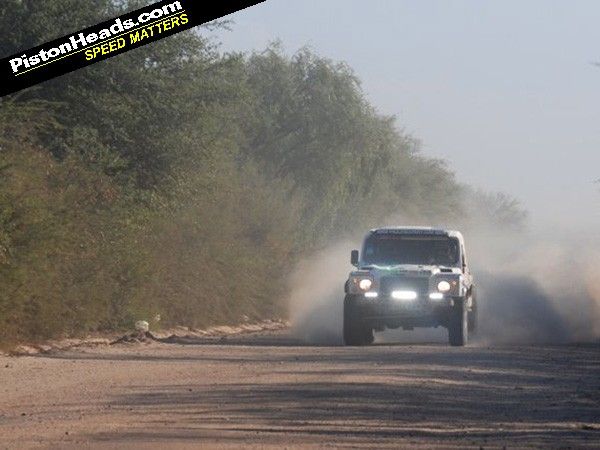 While Loeb was busy
winning the Monte Carlo
, elsewhere in the world this weekend a slightly lower-profile but arguably far more significant victory was taking place: the Race2Recovery team crossed the finish line of the Dakar Rally in Santiago, Chile, to complete the event, making them the first ever disability team to do so.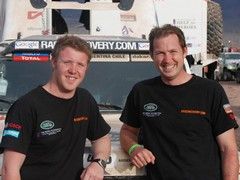 Gillespie (l) and O'Hare (r)
The team's final Qt Wildcat, driven by Major Matt O'Hare and Corporal Phillip Gillespie, crossed the line on Saturday evening, after two weeks of hard slog that saw the other three Race2Recovery Bowlers fall by the wayside. The team's retirees, however, pitched in to help O'Hare and Gillespie through to the finish – a fact which, the pair said, contributed largely to their success. "It's not quite sinking in that we've actually done it," said O'Hare of the result. "I'm ecstatic, and am so proud and pleased for the whole Race2Recovery team. Our mechanics and support team have kept us in the race and their work and dedication was second to none. Our other drivers and co-drivers who were forced to retire earlier in the race became an integral part of the support team as we continued the challenge and so this really is a team success."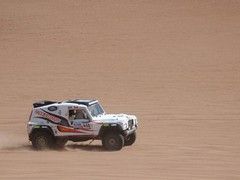 Tough conditions left 'Joy' as the last R2R Wildcat
Completion of the Dakar is an achievement which simply can't be overestimated. Race2Recovery was formed by a team of predominantly wounded soldiers back in 2011, with the specific aim of competing in this event and, in the process, raising money through sponsorship for the
Tedworth House Personnel Recovery Centre
. After 18 months of training and preparation, the team's four Wildcats set off on the 15-day, 6,000-mile slog across mountain and desert terrain. Mechanical issues did for the first two cars, while the third was forced to retire after it hit a ditch and rolled. But the fourth – donated by the Peter Harrison Foundation and christened 'Joy' after Peter's late wife – made it through, despite some early overheating problems which forced O'Hare and Gillespie to complete most of the first half of rally during the cooler nights.
It's a tremendous result for the team, and we're sure you'll join us in offering the warmest of congratulations. Should you wish to go further than that, though, you can still donate to the team's campaign for Tedworth by visiting their website or by texting RACE20 £5 to 70070, which as you might expect will send a donation of £5. You can also find out more about the team by visiting them on Twitter or Facebook.