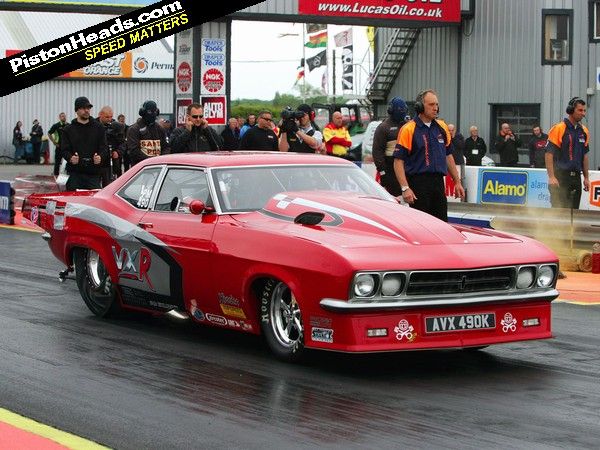 2012 has been a great year for the PH-sponsored Red Victor 3. Andy and his team wanted to put the disappointment of 2011 behind them, and did so with style. Not only did they finally manage to break the street-legal world record they'd been aiming at for the previous three years, but they also met with some solid success in the MSA Pro-Modified class of the British Drag Racing Championship.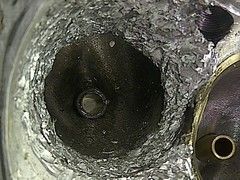 That's not gone well...
After four rounds, Andy found himself in third position in the standings, and with it all to play for, he and the RV3 team headed to the European Finals. But disaster struck when, during qualifying, the clutch slipped in third gear, causing an over-rev. RV3's engine houses exhaust valves twice as heavy as the intake items, meaning valve float occurs much lower down the rev range. As a result, their rev limit is set to 8,600rpm – but on this occasion, the limiter didn't call a halt to proceedings until 9,200rpm. The result? Valves contacted pistons, and in Andy's words, 'bad things happened'.
With only two weeks until the final MSA Pro-Mod round, fixing the damage proved impossible, so Andy wasn't able to take part. That dropped him to 8th in the final standings – undoubtedly a disappointment, but better than the last year.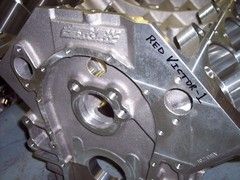 Oh yes. This will do nicely.
So, where does that leave Red Victor now? Well, as Andy explains, things are all starting to get a bit untested at this level. "Remember, we're stillin the R&D stage," he says, "so all we can do is keep checking parts until we're happy they are just what we need. We've been running stock-size Chevy parts until now; at the 3,000+hp level, things start to bend!"
What's more, Andy and his team decided that the next time the six-year-old iron block was damagd, they'd upgrade to a New Century aluminium item. So that's on order from the USA as we speak, and once it arrives, work on the engine can truly begin in earnest. Andy says he hopes for the car to be ready and out representing PH by Easter, though with the amount of work in hand, it could be closer to May before RV3 sees the light of day again. But Andy's more determined than ever to keep lowering the record, and he's confident they can. "And lastly," he adds, "a really big thank you to all the people at and on PH, who continually support our team. We look forward to that support in 2013!"