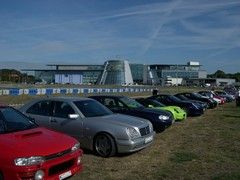 A good PistonHeads Sunday Service is a simple affair. Give us a big car park, access to some coffee and bacon butties, cross your digits for some sunshine and that's all you really need.
And that's just what we'll get on Sunday 27 June, when the first PH Sunday Service of the season returns to Mercedes-Benz World (provided somebody orders some good weather).
Of course, we love a day trip out to M-B World for a Sunday Service because it is so much more than just a big car park (with the grass area we can accommodate more than 400 vehicles) and some fine bacon sarnies. The folks at M-B World are unlikely to disappoint this time round either, as they've laid on a fine schedule of entertainments, including:
An ever-so-topical Smart car football display
High-speed passenger rides in the PistonHeads AMG 'taxi' for just £15 a pop
The Silver Arrows vehicle display team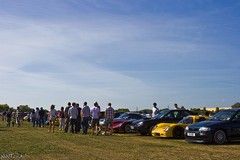 As well as full access to the showroom/theme park that is the main MBW building, you'll also be able to watch the European GP from Valencia live on Merc's big screen.
The Gran Turismo 5 pods we used for our recent competition to win a drive in a non-pixel SLS AMG will also be there, so you'll be able to have a bash at piloting a virtual SLS around the GT5 version of the Nordschleife.
Merc is also re-running its competition to win a drive experience in a real-life SLS for the drivers who set the fastest time on the virtual 'Ring - something we'll have more details about here on Monday.
Finally, don't forget that we have a new system for adding your name to the list of attendees, so rather than doing it via the thread below this story, you need to follow this link and add yourself as attending using the 'diary' option. This will eliminate members having their attendance accidentally deleted by other members and will give a true number of cars coming along.