This month is all about detailing, so if you're interested in restoring the look of your pride and joy then this article is most definitely relevant to you. And if not, you'll just have to read something else!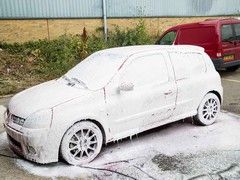 When I purchased my little Trophy it was in a bit of a sorry state. The gaps between the body panels were full of old polish, the headlights were faded, and the door sills and windows were full of that horrible green mildew that's often associated with a barn find. Inside the silver trim was practically black with grubby marks; it was all pretty gross. I set to cleaning it the day after collection armed with a bucket, sponge and whatever shampoo I could find in the garage. It was certainly better, but up until a month ago my understanding of the 'two bucket method' involved pouring ice over your head.
I made contact with the Professional Valeters and Detailers Trade Association (PVD), a network of approved, insured and highly capable valeters and detailers in the UK who actually have a thread in the forum for all your detailing tips and questions. They put me onto TheMattFinish and Happy Headlights, with both close to me in Kent and approved by PVD for their outstanding service. I thought valeting was taking your car to the local carwash - how wrong I was!
After a handful of emails and phone calls my Trophy was booked in for seven days with TheMattFinish for a bespoke enhancement detail to make it even better than factory finish where possible, spruce up the engine bay and improve the interior. I spent the first few hours with the car while Matt from TheMattFinish (see what you did there) started the wash stage of the detail, which really did show the amount of tar, grime and swirl marks that had built up and gone untreated over the years.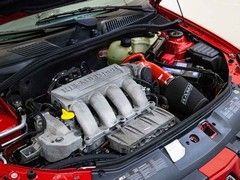 Engine was in line for a spruce up too
Matt started with the wheels and arches, using a mixture of citrus pre-wash, wheel cleaners, tar and glue remover and fallout remover to get rid of the built up dirt and brake dust. The car was then generously soaked with citrus pre-wash, rinsed and covered in snow foam. I never knew there were so many products you could use! This followed with the two-bucket method (now I know!) before further treatment with tar and fallout removal. You could literally see thick black and red streaks running down the car, showing all the deposits of iron and grime that had built up on the paintwork. By now the wash stage was four hours in and I left leaving Matt to carry on decontaminating the paintwork.
The engine bay was tackled next with various brushes, citrus pre wash and Karcher steamer to break down the built up grime. My Clio was then clayed to ensure a perfectly clean surface removing any bonded contaminants, and dried before the paint depths were measured to assess the cars paintwork. Luckily the readings showed that there's been no previous spray work so Matt could get to work on breaking through all the surface damage with plenty of lacquer to spare. Due to my paint being a solid non-metallic with severe discoloration and heavy swirls, it took many hours and cans of Red Bull to reach the high standard that Matt works to. The multi-stage correction process used a combination or pads, compounds and machines to achieve the jaw dropping finish.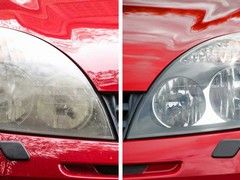 Well of course there's before and after
After a final rinse to remove the compound dust, the refining process began to bring out the colour and gloss in the paintwork. The car was then treated to three coats of Zaino Z2, which is a polymer sealant with built in UV protection to prevent further discolouration. Hurrah for no more pink panels! The engine bay was dressed and protection, with the interior brought back to factory condition inside. Finally I made the trip to Happy Headlights to sort the faded headlights. People have a crack at this at home with anything from peanut butter to toothpaste to cut through the plastic, but it's best to take it to the professionals who use a series of compounds to bring your lights up like new. The added benefit is that you'll also get UV protection to prevent it happening again in the future.
If most of this has gone over your head like it would have done to me, head to the Pro Valets thread and start asking any questions you have, or grab a copy of its guidebook. Otherwise, I think the photos speak for themselves in the simply stunning finish.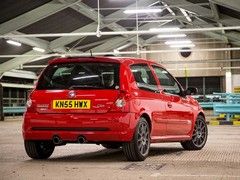 I was left speechless when I picked up the car a week later. Every time I drive the Clio now I have to get out and just look at it for a few seconds; it's completely transformed from the car I picked up back in April. Progress hasn't slowed down in other areas, as I've also replaced the brakes all round for some extra stopping power after the issues I had at Spa. I've been out on another Renaultsport track day at Oulton Park but more on all that next time!
Products used during the detail: Valet Pro Citrus pre-wash, Envy all-purpose cleaner, Autosmart tar and glue remover, Envy fallout remover, Envy Bubbly Jubbly snow foam, various grades of compound polish, Spies Hecker 7010, Zaino Z2, Z8 Grande Finale. Oh, and some Red Bull and Anadin for good measure.

---
FACT SHEET
Car: 2005 Renault Clio 182 Trophy
Run by: Ben Lowden
Bought: April 2015
Mileage: 79,911
Purchase price: £4,250
Last month at a glance: Trophy shines after time with the detailers

---