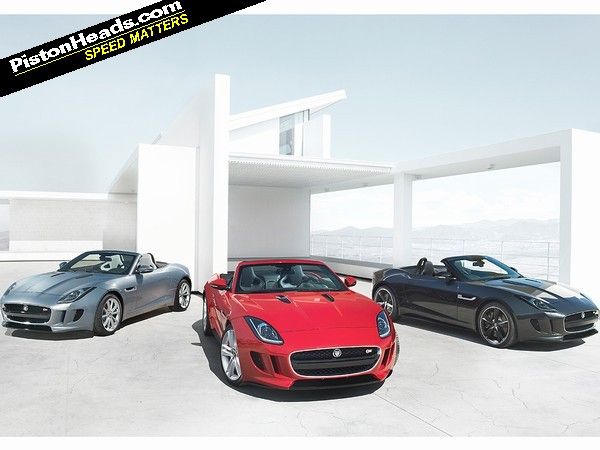 Here it is – the new Jaguar F-Type, uncovered and revealed to the world in all its glory.
It's just the one image we're getting for now: the full reveal will come next week on the eve of the Paris Motor Show (from 20:30 CEST on the 26
th
). Jaguar's simply confirming for now that its all-new two-seater sports car will be there.
So what do we have here? A trio of F-Types, all wearing 'S' badges, in different hues including that pretty red that's likely to be the signature launch colour of the new car. All are roadsters, following Jaguar's confirmation the drop-top will launch first (the coupe following later in 2013).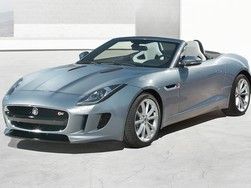 Vent slots in abundance
PistonHeads readers, you can share your first thoughts on the styling. We'll just point out a few key aspects that caught our eye, such as the C-X75-style grille, the bonnet vents that appear to be a prominent styling feature, and the front bumper that contains no less than five ventilation slots in addition to the main grille.
The rear overhang is short, giving a cab-back stance (it's based on a shortened version of the all-aluminium XK platform), the rollover hoops have been made a prominent styling feature, doorhandles are flush-fit pop-out items and the headlights feature a sharp LED running light detail.
Rear wings carry a crease line on the top surface, and the bonnet is a clamshell design that also forms the top half of the front wings. Meanwhile, the peek at the interior suggests some of the C-X16 concept's interior will be carried over too (we've included some images of the concept here, so you can judge for yourselves).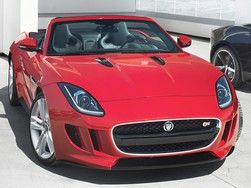 Clamshell bonnet has E-type echoes
Note the bodykit on the red car, too – do the prominent side sills and crease line indicate this is the 5.0-litre supercharged car, instead of the 3.0-litre supercharged alternatives? Indeed, are all three variants shown here – 335hp 3.0 S/C on the left and 3.0 S/C 375 on the right?
This is it, then, the most important new Jaguar for years. What do you think?