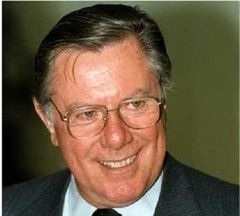 Legendary car designer Sergio Pininfarina died last night in his home near Turin at the age of 85.
Pininfarina was instrumental in handling the relationship between his coachbuilding and design company and Enzo Ferrari, a relationship that began in 1952 and whose fruit was some of the most iconic sports cars of the 20th century.
Born Sergio Farina, he joined his father Battista's Carrozzeria Pininfarina (the family changed their surname from Farinia to Pininfarina to match the company in 1961, at the request of the Italian president). In 1966 he became chairman of the company upon his father's death, only relinquishing control of the day-to-day running of the company in 2002 to his son, the late Andrea Pininfarina. In 2005 he was made a Senator for Life of the Italian Republic.
Although Pininfarina will be most fondly remembered for his hand in the design of Ferraris, the company has also worked with the likes of Peugeot Alfa Romeo Cadillac and Volvo. So, as a tribute to the great man, here are a few of his company's designs...