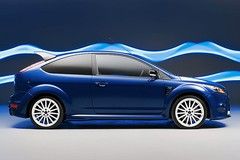 You can take the car out of Essex, as they say, but you can't take the Essex out of the car. Ford might no longer build cars in the County That Taste Forgot, but Essex will forever be the spiritual home of Fords in the UK, particularly fast ones.
It's therefore pretty fitting that, to mark the end of Focus RS production, the Ford super-hatch is metaphorically donning a set of white stilettos for a final night out (presumably down Southend).
But enough stereotyping - the WRC-style 19-inch alloys are finished in white and will cost £500 for a set.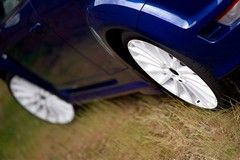 "The demand for Focus RS has been astounding. In barely a year since launch, we have sold almost our entire UK allocation - thanks in a large part to this Focus RS continuing the proud tradition of combining high-performance with practicality and affordability," says David Calder, Ford of Britain's product manager. "We expect demand to be high for these last cars and we're giving customers the chance to personalise them with this exclusive option."