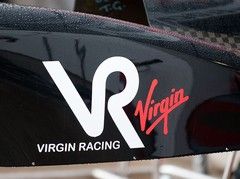 The Virgin Racing F1 team have sold a 'significant stake' to
Russian sports car maker Marussia
, securing the team's spot on the grid until 2014.
The team will be re-branded as Marussia Virgin Racing in 2011. "It's massive," said Virgin team boss John Booth. "The future was solid but this makes us secure for four years."
Branson was equally upbeat about the news. "Virgin is delighted to have secured a partner which shares our vision and spirit for challenging the establishment."
The involvement of Marussia - whose boss Nikolay Fomenko who is a former racer and presenter on the Russian version of Top Gear - has inevitably sparked speculation that a Russian driver will be dropped into one of the Marussia virgin seats for 2011.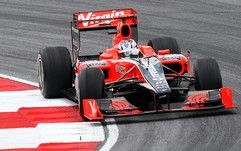 After all, Virgin hasn't yet confirmed its drivers for next year, and Vitaly Petrov's future with Renault is uncertain.
Whatever the eventual driver line-up, Virgin will no doubt be hoping to put the bad memories of its debut season behind it - it started the 2010 season with a fuel tank that was too small to last an entire race, and has subsequently been dogged by reliability issues.
The other 2010 rookies, meanwhile, are also looking to improve on 2010 - Hispania Racing has secured new financial backing and is rumoured to be running a Williams gearbox next year, while Lotus has secured a deal to use Renault engines for 2011, along with a Red Bull gearbox and hydraulics.
Pics: Haja Rasambainarivo/Morio