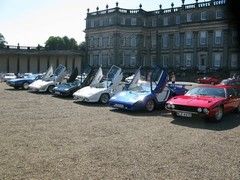 We are often painfully aware on PH that we are - how to put this? - a little southern-centric. But that doesn't mean we don't care about what goes on north of Watford, or even north of the border between Scotland and England.
So if you can't join the southern half of PH in playing with and gawping at supercars over on the lawn Lord Pembroke's stately pile in Wilton near Salisbury this weekend, perhaps you can make a trip to an Alternative event going on in Scotland - the Scottish Italian Car and Bike day.
This is the third year that the event has taken place, in the beautiful grounds of Hopetoun House, South Queensferry, near Edinburgh.
Last year 330 cars, motorbikes and scooters of all types descended upon Hopetoun for a spectacular and fun family day out. Like last year, a range of exotic supercars, numerous classic cars and powerful bikes are expected to be on show.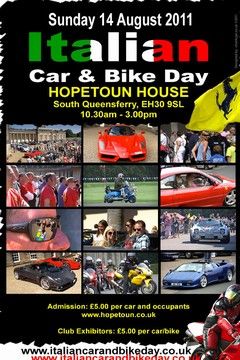 The only entry requirement is that you have an Italian car or bike (well, you can still go if you don't, but you won't be able to park up in the main display area...). Every type and quality of vehicle is being welcomed, from the everyday affordable runabout to the rare and expensive.
Last year's display saw the only four Lamborghini Countachs in Scotland alongside Ducati superbikes, a Ferrari Enzo, and a Pagani Zonda.
If you want to head along, you'll only have to pay the standard Hopetoun House visiting fee, although an additional charge will apply to anyone wanting to tour the house itself. The charge for vehicle exhibitors is only £5 per car/bike, inclusive of occupants/riders.
So if you fancy a spot of Italo-Scottish action while helping to raise money for the UK E-Coli Charity, HUSH, you know where to head this Sunday...